Sioux Falls, S.D. – It was a picture-perfect day for AMSOIL Championship Snocross fans in Sioux Falls, S.D. Blue skies mixed with rising pre-spring temperatures before turning into a memorable night of racing at Huset's Speedway.
Perfection has historically been unattainable in snocross, despite historical efforts from some of the best riders in the sport's four decades of competition. But riders have been near perfect for extended periods, displaying a high level of precision from race to race as they chase weekend sweeps, winning streaks, and championship dreams.
The sports best stood out in Sioux Falls over the weekend and Saturday night's effort brought snocross fans to their feet for round ten, the Octane Ink Snocross National.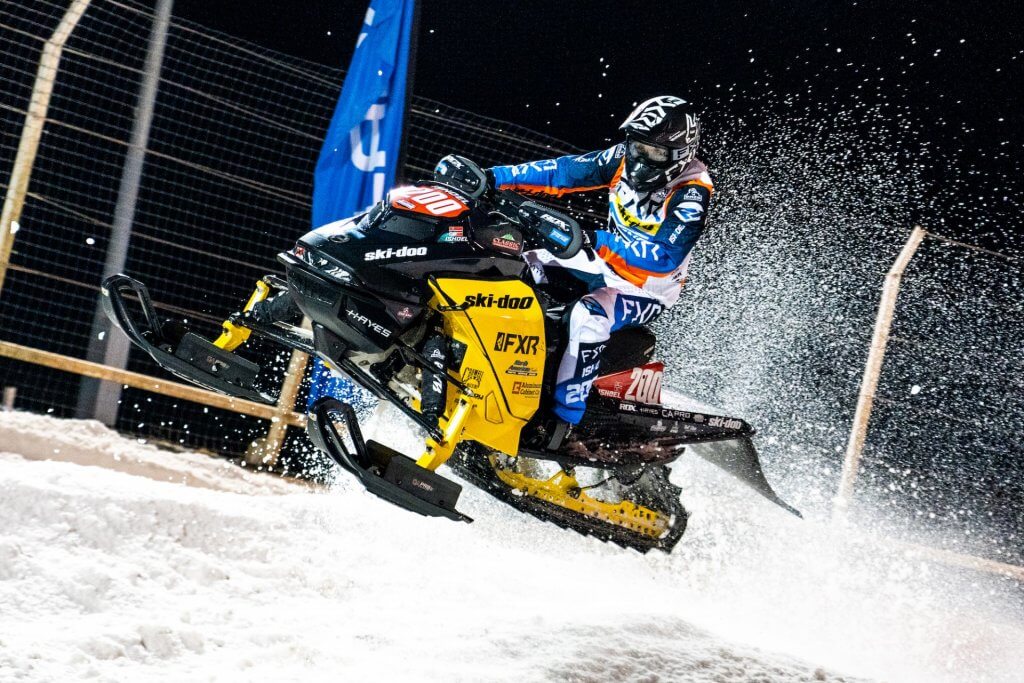 Ishoel Secures Sweep in Pro Final
Adam Peterson took home the 2022 Rookie of the Year award thanks to a pair of podium finishes and eighth overall in the Pro class. On Saturday he backed up those accolades by being the fastest rider in the Pro class. Until Elias Ishoel figured things out late in the race.
Peterson grabbed the hole shot and held off Ishoel over the first lap. After that, Peterson began pulling away from the four-time champion. He was in control and had pushed his lead to nearly three seconds.
Ishoel had backed off the race lead, choosing to steer clear of Peterson's roost as he searched for faster lines. His slower-to-go-faster method worked as soon as Hunter Patenaude caught up to him. Together, they used a line just past the right-handed turn to chop away Peterson's lead in giant swaths. Ishoel was able to get away from Patenaude and was then able to catch Peterson, making the pass stick with just over a minute left on the clock. It marked Ishoel's fourth win of the season and his first-weekend sweep in 2023.
"I had a good hole shot then I was sitting behind Adam, and I was kind of struggling to get any momentum out there," said Ishoel. "Just trying to find any place to pass. He was going so fast, so I was kind of settling behind and giving him a little gap to make it easier to look at the lines. I got up to speed again and I saw a couple of places I could pass."
As Peterson was charging back on Ishoel, he caught an edge and tipped off the track. That put Patenaude into the runner-up spot and gave the Scheuring Speed Sports driver a chance at his fourth win. But Ishoel had found his lines and Patenaude ran out of real estate before he was able to catch the race leader.
As for Peterson, he was able to remount his Polaris quickly. He did cross the line in third for his second podium finish of the season. However, it was ruled by race officials that Peterson reentered the racetrack in an unsafe manner, dropping his finishing position by three spots. That officially moved Aki Pihlaja into third.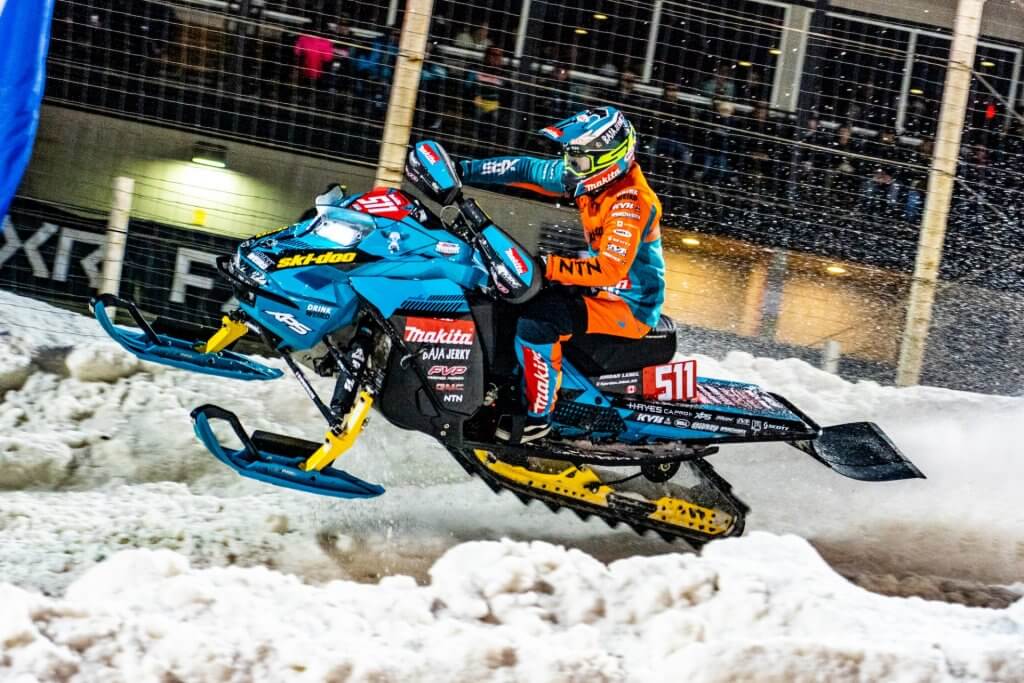 Lebel Leaps to Tenth Straight Win
Off the start of the Pro Lite final, it looked like Topi Posti and Ryley Bester were going to lock horns and battle for their first win of the season. But Jordan Lebel put a clinic on overcoming a slow start and ending the first lap with a commanding lead.
Lebel, who opened the season with nine straight wins, continued his assault on the Pro Lite record books. He found more than a few triple jumps to his liking and had increased his early lead to nearly six seconds by the time the race hit the halfway mark.
"I was kind of stressed off the start because I knew the inside was getting all the hole shots today, but I just held it wide all the way to the corner," said Lebel. "I was like mid-pack and made a couple of passes and then just kept my lines. It was really fun."
The battle between Bester and Posti did materialize, just for the runner-up spot. Bester looked to be in control of the second spot for much of the race, but Posti was pushed by Andy Pake for the second half of the race which caused both riders to catch up to Bester. Pake dropped off on the last lap, but Posti was just a couple of sled lengths behind Bester when they crossed the finish line. It marked Posti's first trip to the podium this season.ium this season.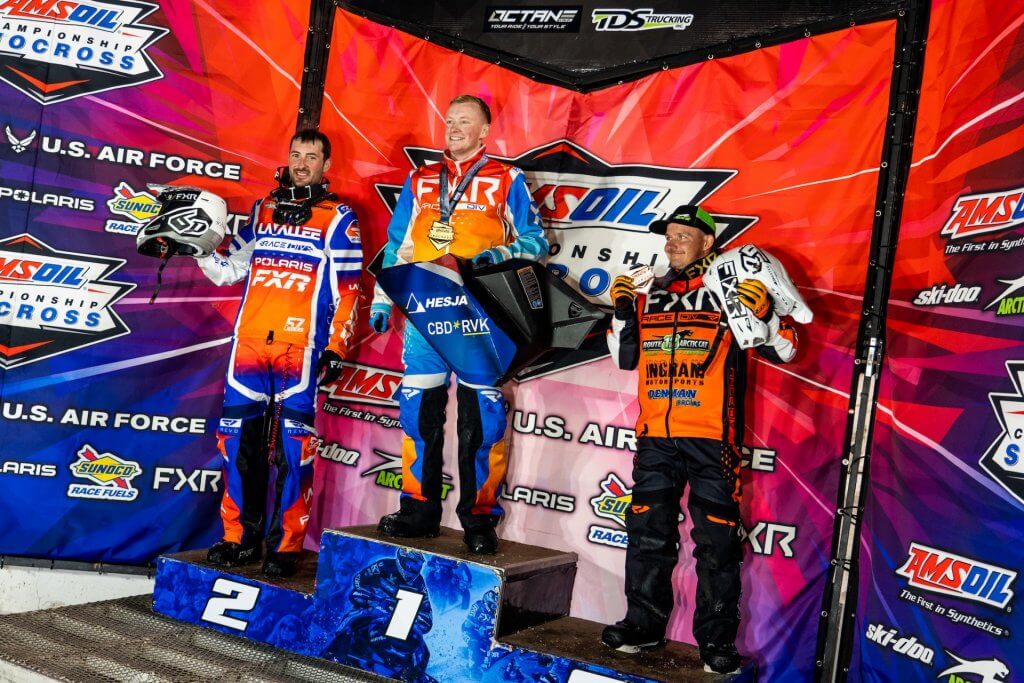 Icelander Sigurdsson Surprises in Pro AM Plus 30 Final
Entering Sioux Falls, the Pro AM Plus 30 class had the tightest championship race in the national series. Three points separated first to second, with third place just eight points out of the lead.
Points leader Andy Lieders has been a tough beat over the past few years and has been perfect on days he's raced this year (he missed round four in Deadwood). With second-place rider Adam S. Johnson out of action in Sioux Falls, it would come down to a showdown between Lieders and defending class champion Devin Denman.
Unless you have never heard of Icelander Bjarki Sigurdsson, that is. Sigurdsson was making his AMSOIL Championship Snocross debut this weekend and finished sixth in the Sport class on Friday night. But he came to compete in the Pro class and went bar to bar with Lieders and rode like a seasoned veteran on his way to a very competitive, and very entertaining win.
Lieders would finish second, with Denman in third.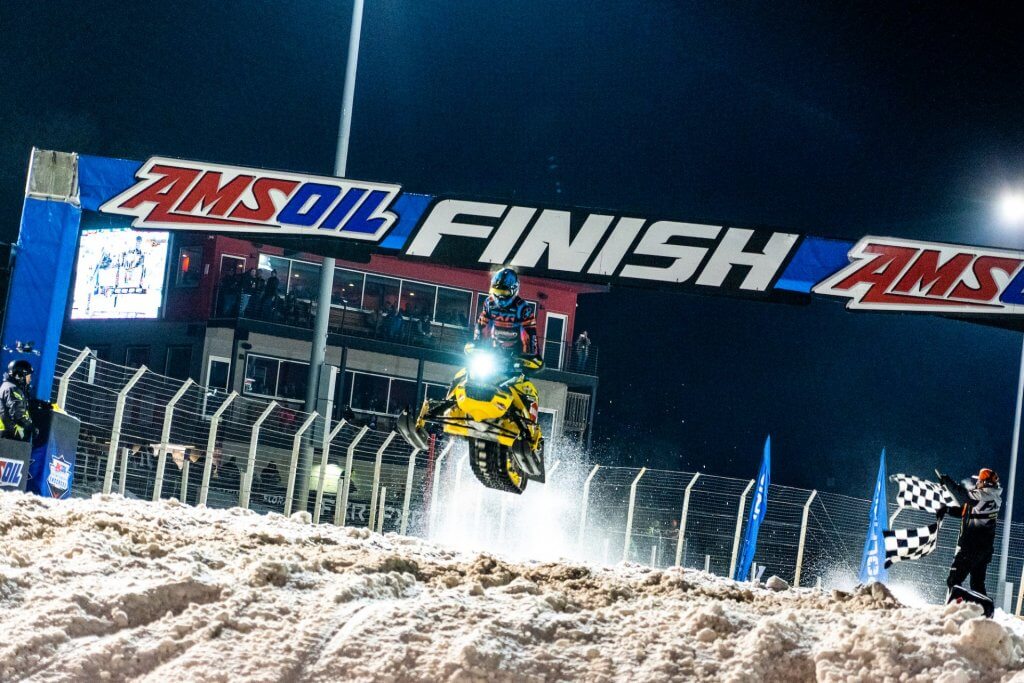 Cottew Completes Weekend Sweep
One night after picking up her 36th career win, Malene Cottew made it a clean sweep of the Sioux Falls weekend.
Cottew used another clean start to propel her Ski-Doo out in front of the Pro-AM Women's field. After that, she used her strength to control the sled over the remainder of the race for her class leading eighth win of the year.
Taven Woodie and Inanna Hauger had a nice battle for the runner-up spot. As the snow dust settled, it was Woodie taking home her tenth straight podium. Hauger has now finished third in the past four races.
FXR SPORT: Crayden Dillon has had winning streaks of four and three through the first nine rounds this season. His three-race win streak ended on Friday night in Sioux Falls, but the points leader jumped back on the winning track on Saturday night.
Dillon took over the lead from hole-shot winner Drew Freeland on the second lap and never looked back. Dillon ran his fastest lap of the day on his final lap of the day to stretch his lead to nearly 12 seconds.
Freeland would rebound after an early bobble that dropped him down to fourth. He worked back into the runner-up spot with five laps to go and was able to hold off Friday night's winner, Cameron Cole, for second.
SPORT LITE: Kenny Goike was on pace to pick up his third straight Sport Lite win on Saturday night, but he came to an abrupt stop while in the lead with two laps to go. That opened the door for Brandon Nelson to grab his fifth win of the season and extended his overall points lead in the class.
Justin Blazevic worked his way up from a fifth place start to finish second, his first podium finish since round. Nathan LaValley had even more real estate to cover to finish third. LaValley started tenth but was able to move into the final podium spot with two laps remaining.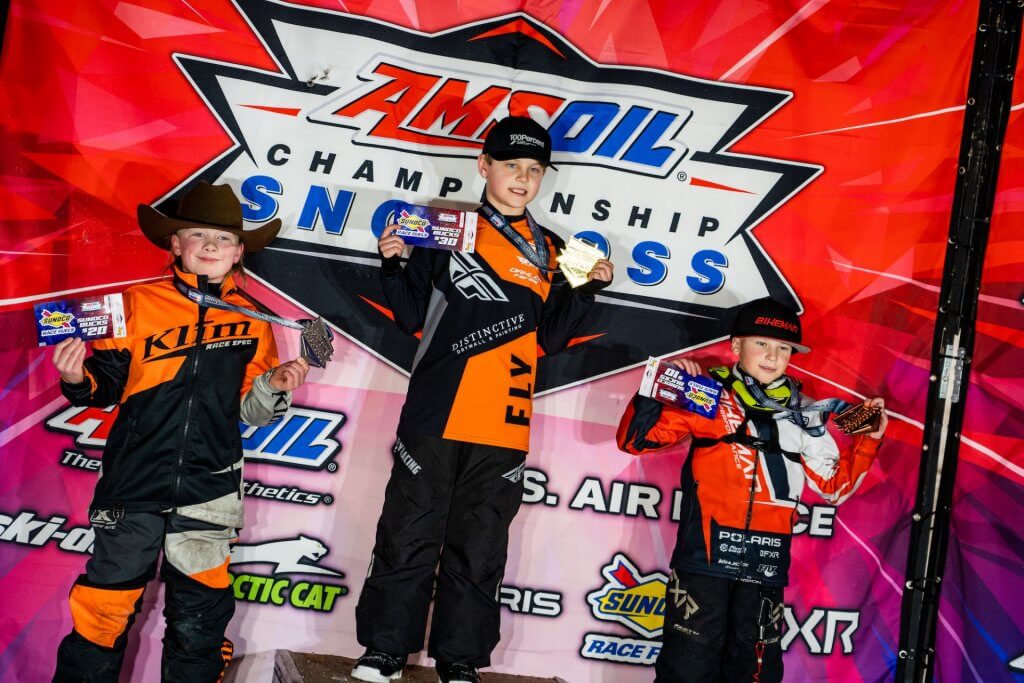 120 CHAMP: The winning streak for Ryan Shimanski has now reached three in the 120 Champ class after a dominant win on Saturday night. Shimanski took the lead early as he now has four wins in five events this year.
George Boettger had his hands full with Kody Krantz, who applied a ton of pressure for the race's second half. Boettger was able to keep hold of the second position as both he and Krantz made a successful return to the podium after missing it in round four.
Rox Speed FX Stock 200 (Saturday): Jack Gelinas won his second straight Rox Speed FX Stock 200 (Saturday) finals on Saturday afternoon. Gelinas grabbed the lead off the start and held off Noah Kuhn for the top spot. Kuhn's second-place finish was his best final position of the 2023 season. Tucker Kraling also found his best finish of the season in Sioux Falls by staying in front of Blake Van Damme by a half-second at the line.
Transition 9-13 (Saturday): Carter Meyeraan became a two-time winner on Saturday after winning the Transition 9-13 (Saturday) final. Meyeraan, who also won the Junior 10-13 final, picked up his first class win this season after grabbing the hole shot and leading from start to finish. Points leader Tavin Knudson finished second and Ryder Harnois earned his first podium of the year with a third-place ride.
Transition 8-10 (Saturday): Tripp Knudson made it a weekend sweep in the Transition 8-10 class. Knudson, who has won four Saturday class finals this season, went wire-to-wire for the win. Hudson Kuhn finished second and round four winner Noah Gillis finished third.
Jr. 14-15 (Saturday): Dylan Lebel bounced back after a tough night of racing on Friday in Sioux Falls to take home his second straight win in the Junior 14-15 (Saturday) final. Points leader Isaac Peterson finished second for his fifth class podium of the season. Camden Duffy sat on the podium in third.
JR. 10-13: Carter Meyeraan won his first Junior 10-13 final of the season with a wire-to-wire win on Saturday. Meyeraan sits second behind Tavin Knudson, who finished second in Sioux Falls. AJ Skogquist rounded out the podium in third.
Woodies Racing JR. GIRLS 9-13: Avery Hemmer took home first-place points in the Woodies Racing Junior Girls 9-13 class on Saturday. Rilee Nowaczyk finished in the runner-up spot for her second podium in as many races. Aubrey Eeg earned her best finish of the year with a third-place ride.
Up next for AMSOIL Championship Snocross: AMSOIL Snocross National at ERX Motor Park in Elk River, Minn. on March 10-11, 2023.
You can watch all 16 rounds of the AMSOIL Championship Snocross season plus the AMSOIL Dominator live on FloRacing with a subscription. For more information on how you can follow along this season, click here.