Elk River, Minn. ~ After ten rounds of racing, AMSOIL Championship Snocross brought a monumental change to the Pro racing format on Friday night at ERX Motor Park. They introduced a Triple Crown for the premier class that consisted of three, eight-minute finals instead of a two-heat and a single final format. The first run was considered a success for racers and fans, and it set up for an equally exciting Saturday night of racing.
The ERX track offers up big air, deep holes, and racing that is always tight. The new format put that race surface to the test as the Pro class raced for more than 24 minutes in high-level competition.
Add in a Pro Lite points leader looking to avenge his only loss, a heated Snow Bike final and bar-to-bar racing from start to finish, and round 12 set an unmatched tone for the remainder of the 2023 season.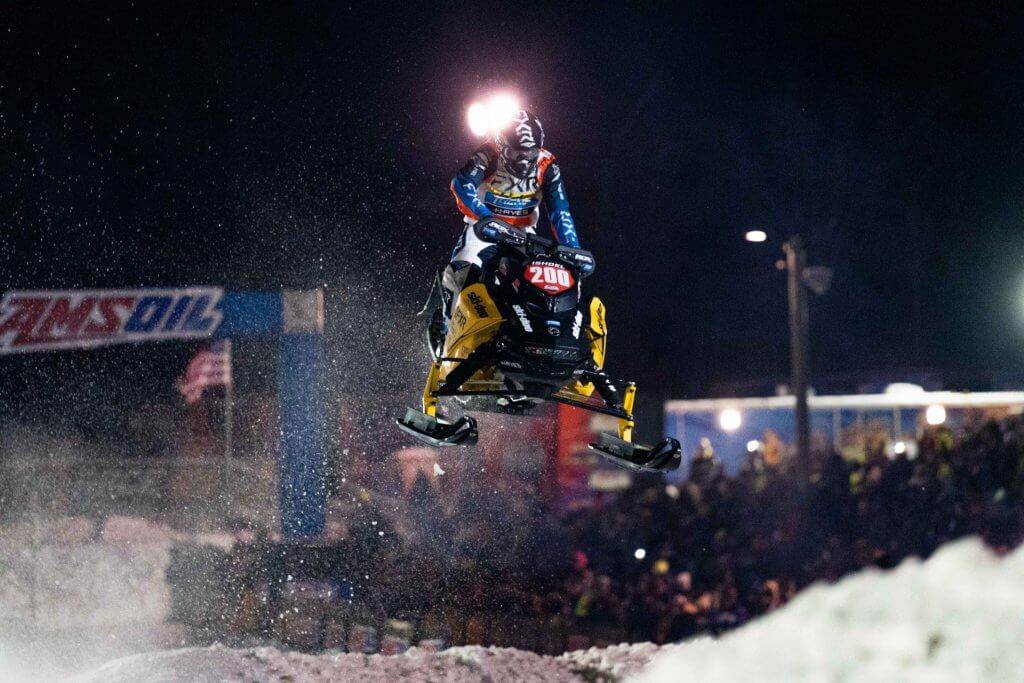 Ishoel Takes Two for Triple Crown Win
Pro race teams were able to digest the highs and lows of the new Triple Crown format that was introduced at ERX on Friday night. For those riders who found success in round 11, the plan was to replicate the process. But for those competitors that didn't fare well on Friday, they had to refocus and find a new plan for Saturday night satisfaction.
One rider who had to adjust his game plan was Elias Ishoel, who struggled on Friday night. The easiest way to win a triple crown format? Win.
Ishoel stuck to that script on Saturday. In the first round, he passed four riders on one straight stretch that put him in position to make a last-lap pass on Adam Peterson for the win. In the second round, he got a better start and worked his way around Francis Pelletier just three minutes into the eight-minute final. In the final race, he didn't pick up the win, but had several opportunities to get past Pelletier for the lead but couldn't find the right opportunity. Patience is a veteran move, and the defending four-time champion played it smart to stay in second. That gave him a 1-1-2 finishing order, more than enough to take the overall win.
"This last race, I knew I needed to be smart," said Ishoel. "I knew that I had the overall and I did find that triple, but it was going to be tight. I felt good all weekend."
Pelletier would hold off Ishoel in the third round for the win. His second-place finish in the second round would have set him up for the overall, but an eighth-place finish in round one relegated the Ski-Doo rider to second.
Peterson scored the same number of points as Pelletier (11) but finished fifth and fourth in the final two rounds to give the tie-breaker to Pelletier. Peterson had a great race in the opener, holding off Ishoel until a last-lap bobble slipped him off the track and let Ishoel sneak past. He did recover to finish second, but when the night ended, he was standing on the third box of the podium.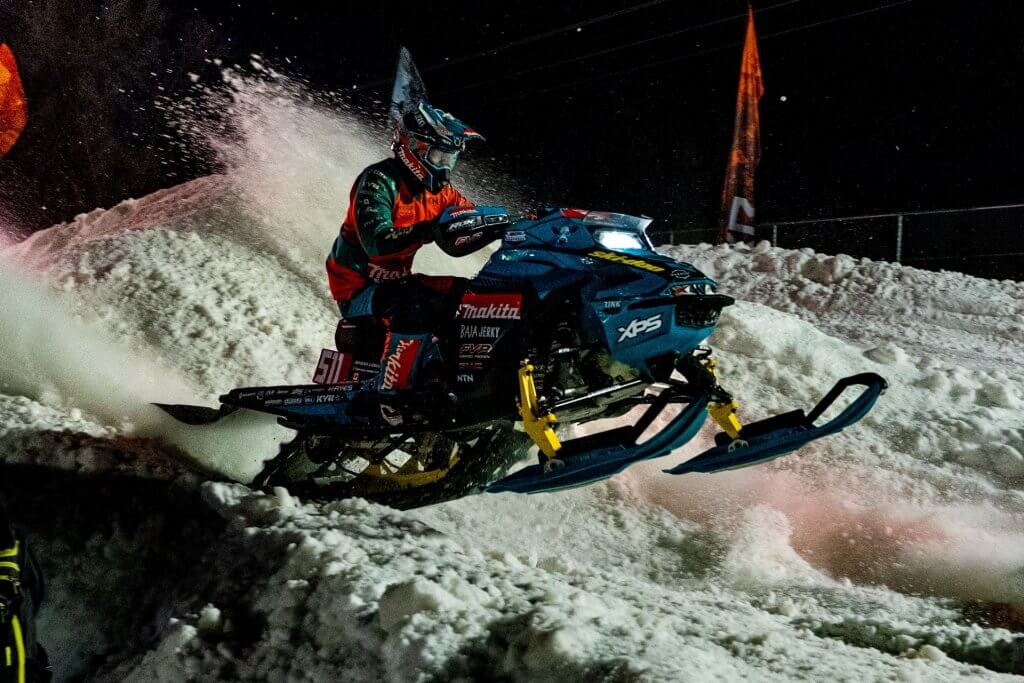 Lebel's Eleventh Win Leads Pro Lite
In science, if you have a theory, you need to run repeated tests to prove that theory. In snocross racing, there is a theory that has officially become true: if you give Jordan Lebel the lead, he's going to win the race.
Lebel has won by grabbing the hole shot. He has won this season after starting mid-pack and he has won from the back row. In all of his 11 wins this year, he got the lead, usually in quick fashion, and pulled away like a dragster hitting the quarter-mile.
On Saturday, Ishoel was looking to get back on top of the podium after his ten-race streak to open the Pro Lite season was stopped by Evan Daudt. It took one turn to know Lebel found what he was looking for. He grabbed the hole shot and by the time he hit the second lap, he already had a 5.2-second lead over second place.
"It helps a lot to be on the front row," said Lebel. "Thankfully I got the holeshot and then I just cruised my way around the track. It was really fun out there."
Lebel's best challenger this year has been Ryley Bester. The Polaris rider was looking for a better start but had to work his way through early traffic to put himself into a podium position. He was able to get past Topi Posti with three minutes left on the timer for the runner-up spot, the seventh time he has finished second this season.
Posti, who finished third in Sioux Falls, was able to hold onto the final podium position despite a sled issue that caused him to ride with caution over the final several laps.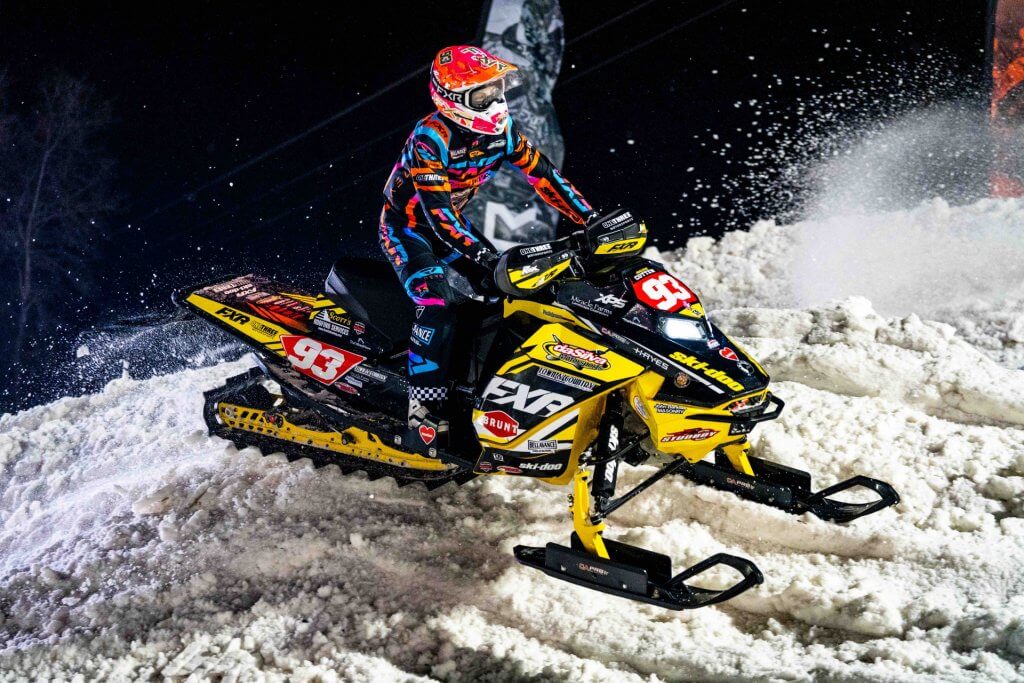 Cottew Completes Weekend Sweep
It was another dominant night, and weekend, for Malene Cottew in Elk River. Cottew pushed her winning streak to four and added another tally to the career win column, bringing her total to 37 career Pro AM Women wins.
Cottew set the pace off the start, railing on the inside of turn one for the hole shot and a lead she never relinquished. Taven Woodie was on her rear bumper early, but Cottew had a better rhythm on the backstretch and cruised to her tenth win in 2023.
Woodie kept her podium streak alive, finishing second and finding the winner's circle in every final this season. had to work around a smooth and quick riding Tausha Lange for the lead. The two would get extremely close later in the race as the leaders worked through lapped traffic, but Cottew was able to pull away for the win. Inanna "Hole Shot" Hauger didn't live up to her nickname on Saturday, but she did return to the podium with a strong third-place finish on Saturday.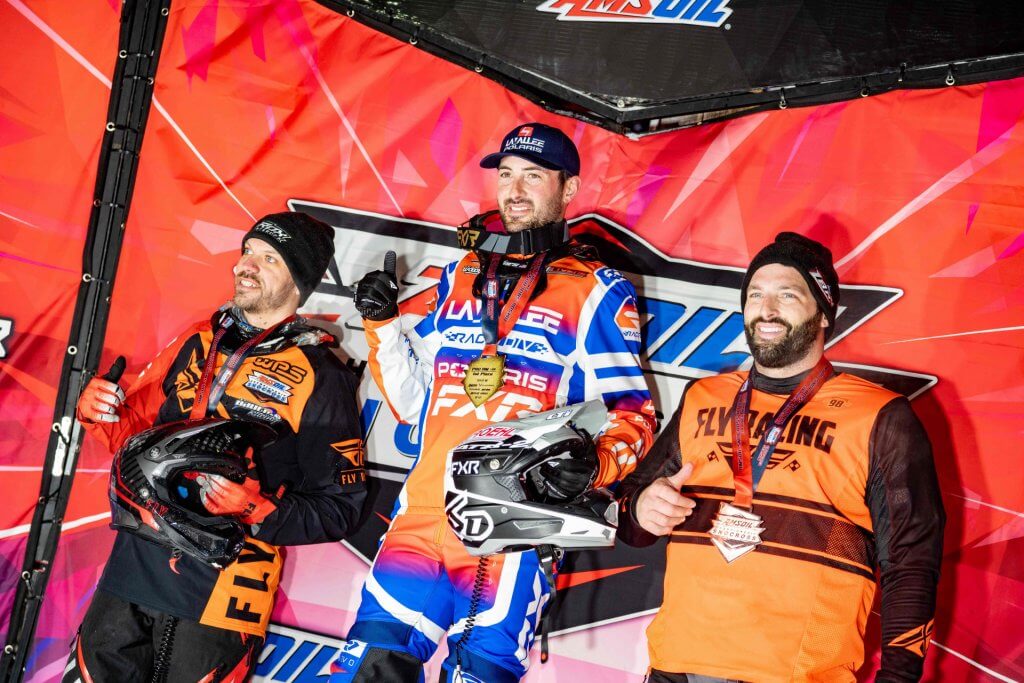 Lieders Leads Again in Pro AM Plus 30
Early on, it looked like a throwback race in the Pro-AM Plus 30 final as Kurt Bauerly and Andy Lieders locked horns. But Lieders focused on his lines and enjoyed the big air at ERX as he pulled away and knocked out his fifth win of the season.
Bauerly, who got hurt in round two in Fargo, made a successful return to racing by finishing second. He held off round five winner Bjarki Siggurdson early on but pulled away for the runner-up spot.
Sigurdsson was unable to finish his second straight podium effort and pulled off with three laps to go. That put John Hoese into third, his first podium finishes this season.
Horbaty Keeps Snowbike Streak Alive
Troy Horbaty made it a weekend sweep in Snowbike class thanks to a pair of dominant moto wins. Horbaty had to work through some early traffic in the first race before taking over the lead and his fifth straight moto win. He was much cleaner in the second race, leading from start to finish, which gave him the overall and his third straight night on top.
RJ Marnoch went 2-2 for second overall. Defending champion Jesse Kirchmeyer went 3-3 for third overall. He also announced on the podium that he will be moving to snocross full-time next season. He is the winningest Snow Bike racer in North America, with 32 career wins.
FXR SPORT: Emil Mikalsen was in position for a weekend sweep, but with less than two laps to go he had to dismount his sled. That put Drew Freeland into the lead and the Ski-Doo rider didn't miss a mark as he rode to his first FXSR Sport win of the season.
Tanner Johnson also capitalized on the crash by Mikalsen, moving up one spot from third to second. That marked the first podium in 2023 for Johnson. Ingebrigt Hoelsaeter finished third.
SPORT LITE: Brandon Nelson has won half of the 12 Sport Lite races this season, putting him in control of the class championship with just four rounds left in 2023.
Nelson picked up his sixth win of the year on Saturday night in Elk River thanks in large part to a clean start that saw him lead the field through the first turn. Brady Freeland hopped into the second spot on lap two and caught the race leader over the final two laps. But Freeland ran out of time to reel in Nelson for the win.
Connor Campbell started third and held on to the final podium spot, marking his first trip to the podium this season.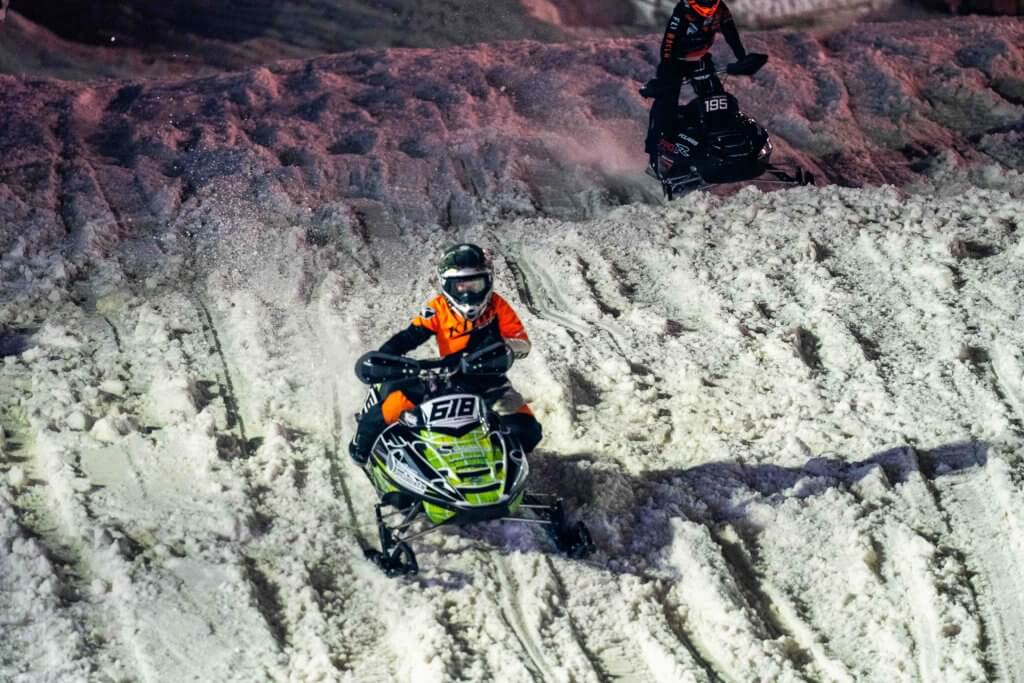 120 CHAMP: The Champ 120 final will be one to remember for George Boettger who finished what he started and picked up his first win of the season. Boettger has only missed one podium this season but finally stood atop the podium after he grabbed the early lead and never looked back.
Points leader Ryan Shimanski finished second. Third-place finisher Logan Bruch had his hands full with Kody Krantz, who finished 3/10ths of a second behind in fourth.
Rox Speed FX Stock 200 (Saturday): Ryan Shimanski is now a two-time winner in the Rox Speed FX Stock 200 (Saturday) class after taking home the win at ERX. Wyatt Miller led a train of six sleds through the final turn to pick up his first podium of the season. Points leader Jack Gelinas finished right behind Mille in third.
Transition 9-13 (Saturday): Tavin Knudson came into ERX with the points lead and he will leave ERX with the points lead. Knudson grabbed the holeshot in Saturday's Transition 9-13 (Saturday) and had his hands full with AJ Skogquist for much of the race before being able to pull away slightly over the final few turns. Ryder Harnois held off Avery Hemmer for the third spot on the podium.
Transition 8-10 (Saturday): Noah Gillis ripped a massive hole shot to take a commanding lead in Saturday's Transition 8-10 final and inched away from the field for an eight-second win. It marked Gillis' first win of the season. Friday night winner Tripp Knudson finished second, and Logan Bruch was third.
Jr. 14-15 (Saturday): The second half of the season has been kind to Dylan Lebel. Friday night Junior 14-15 winner also took the Saturday class win at ERX. That marks three straight Saturday class wins for Lebel. Colin Taggart completed his best finish of the season in second, just ahead of third-place finisher Isaac Peterson.
JR. 10-13: It was a two-sled drag race for the lead in the second half of the Junior 10-13 final on Saturday. Riley Johnson took the lead with two laps to go, but it was round five winner Carter Meyeraan who would take his second-straight win. AJ Skogquist made it a tight finish for Meyeraan as the two would finish just 8/10ths of a second apart at the line. Johnson was just a few sled lengths back in third.
Woodies Racing JR. GIRLS 9-13: Points leader Victoria Dillon got back on the top spot of the podium in the Woodies Racing Junior Girls 9-13 final. Dillon led from start to finish for her second win this season. Rilee Nowaczyk now has three straight podium finishes after taking over the second spot with two laps remaining. Aubrey Eeg finished third for the second straight race.
Up next for AMSOIL Championship Snocross: Cannonsburg Snocross National in Cannonsburg, Michigan on March 24-25, 2023.
You can watch all 16 rounds of the AMSOIL Championship Snocross season plus the AMSOIL Dominator live on FloRacing with a subscription. For more information on how you can follow along this season, click here.