About the event:
The 2022-2023 AMSOIL Championship Snocross title chase continues to the state of Michigan for the Cannonsburg Snocross National. For the second time in series history, ACS will visit Cannonsburg Ski Area located just outside of Grand Rapids. The ski slope course provided electrifying racing in 2022 from the qualifiers through the main events. The world's greatest Snocross racers will have to face back-to-back weekends of ski slope tracks to close out the 2023 season.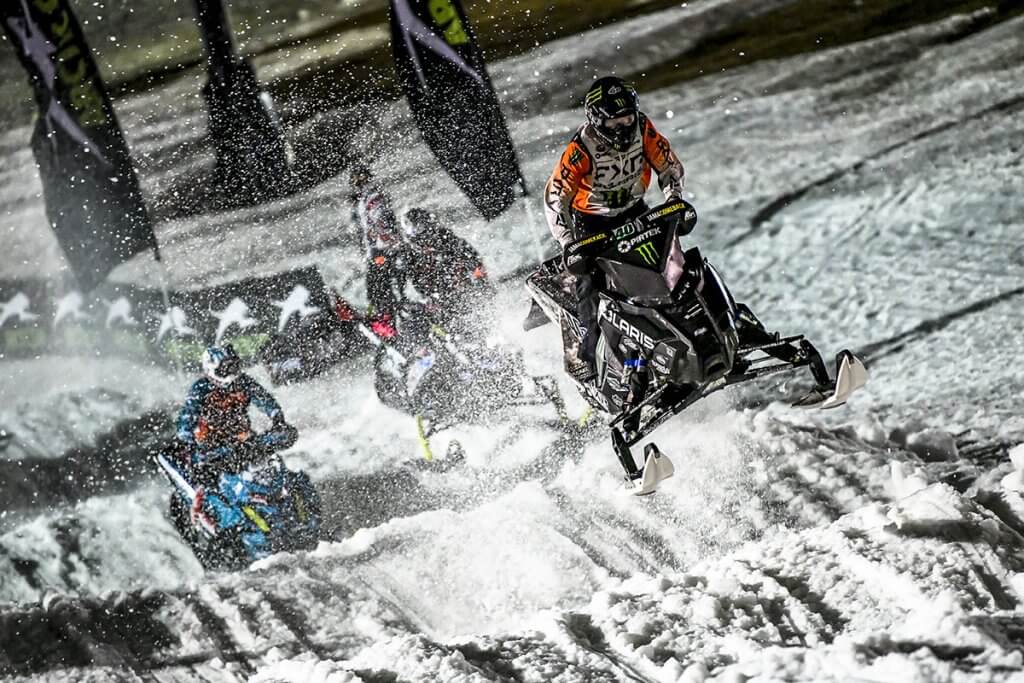 Michigan is home to a number of racers on the national tour including Jacob Yurk (Pro), Inanna Hauger (Pro Women), Tyler Oomen (Pro Lite), Ava Hammar (Pro Women), Cody Lucas (Pro Am Plus 30), Taylor Herin (Pro Am Plus 30), and a bevy of amateur national division competitors. The state has it's own regional circuit, Michigan Sno-X.
Fans can expect two action-packed days of high-flying snowmobile racing. The two-day snowmobile racing spectacular will be held throughout the day Friday and Saturday. Please stay tuned for the official track layout.
For those fortunate enough to attend the event, we hope you enjoy the races and create lifelong memories. Tickets and event info can be found here. For those who are not able to make it, please see this week's How To Watch guide for information on how you can follow along online.
AMSOIL PRO STATS
1st: Elias Ishoel #200 (443 points)
2nd: Kody Kamm #53 (397 points)
3rd: Hunter Patenaude #8 (374 points)
4th: Emil Harr #31 (373 points)
5th: Francis Pelletier #220 (369 points)
The race within the race. We're eyeing two key battles in the championship standings. Foremost is the race to the championship. The Viking Rocket has a 46-point lead over Kody Kamm, but the championship could likely come down to the final round once again this year. These two racers are not just defined by the fact that they are the only two currents to have won a premier class championship. They are in a league of their own when it comes to a number of categories. A 30,000ft view of their illustrious careers thus far:
| | | |
| --- | --- | --- |
| | Elias Ishoel #200 | Kody Kamm #53 |
| Pro since | 2016-2017 (3rd longest of current racers) | 2011-2012 (2nd longest of current racers) |
| 1st race as a Pro | AMSOIL Dominator 2016-2017 (Win) | Lake Geneva 2011-2012 (Win) |
| Career ACS wins | 36 wins (most of current racers) | 17 wins (2nd most of current racers) |
| Career ACS podiums | 58 podiums | 59 podiums |
| Career points | 3,810 (Ranked 3rd among current racers) | 5,407 (Ranked 1st among current racers) |
| AMSOIL Pro Championships | 4 (2018-2019, 2019- 2020, 2021, 2022) | 1 (2016-2017) |
| AMSOIL Dominator Titles | 2 (2016-2017 and 2019-2020) | 2 (2017-2018 and 2022-2023) |
| 2022-2023 wins | 4 wins (Fargo, ERX, Sioux Falls, ERX Triple Crown O/A) | 2 wins (Fargo, Deadwood) |
| Triple Crown race wins | 2 (ERX) | – |
| 2022-2023 podiums | 9 podiums | 3 podiums |
A meager five points separate 3rd through 5th (Patenaude, Harr, Pelletier). Patenaude and Pelletier each have 4 podiums this season and Harr has 5. The 3rd through 5th bracket has been this tight since the early rounds and continues to feature a number of others in and out of the top-5. Racers to have recently been in the top-5 in points include Peterson, Benham and Christian.
By popular demand from the fans and after conversations with the race teams, the call has been made to keep the Triple Crown format for the remainder of the 2022-2023 season for the AMSOIL Pro class. Ishoel (2), Harr (2), Pihalaja (1), and Pelletier (1) are the racers to have won a Triple Crown race. Harr won the inaugural Triple Crown overall in Round 11 and Ishoel in Round 12. You can read up on the format here.
This format demands the absolute best of both racer and mechanic. Equally as impressive as race and overall wins is who is throwing down fast times and when they are setting them. A look back at who has set the fastest lap time in the six Triple Crown races that we've witnessed. While setting fast time doesn't count for points, it's there for us to marvel at when you consider the stamina it takes to race three 8-minute-plus-1-lap main events in one night.
| | | | |
| --- | --- | --- | --- |
| | Race 1 fast time | Race 2 fast time | Race 3 fast time |
| Round 11 (Overall win: Harr) | Ishoel | Harr | Harr |
| Round 12 (Overall win: Ishoel) | Peterson | Ishoel | Ishoel |
Race winners at Cannonsburg include Ishoel and Pelletier. There are only three current AMSOIL Pro racers to have won at a ski venue. Ishoel has won 6 plus both of his AMSOIL Dominators. Speaking of the comparison we made earlier, Kamm has 7 ski venue wins plus an AMSOIL Dominator win. Pelletier has 1 that came during last year's season finale.
And who could forget about this iconic podium moment from Round 12? We sure couldn't. Cheers to you, Adam Peterson.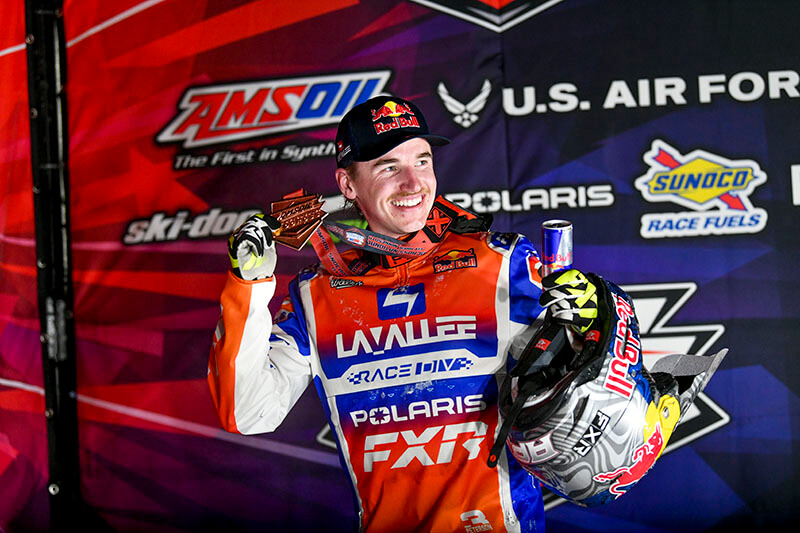 PRO LITE STATS
1st: Jordan Lebel #511 (506 points)
2nd: Ryley Bester #151 (440 points)
3rd: Marcus Ogemar #58 (403 points)
4th: Andy Pake #64 (366 points)
5th: Evan Daudt #413 (364 points)
Jordan Lebel has put the rest of the field at a larger deficit that any of the other Pro class point leaders entering Round 13 (66 points). Lebel has not been off of the podium once this season and has won all but one race. He has already matched his 2022 performance where he had 10 wins (not including the AMSOIL Dominator) and made history while he's been by setting a 10-race streak. If he is to win again in 2023, and there's a moderate-to-severe chance of it, he will outdo his 2022 wins tally. He has the raw speed, the consistency, the craft and the mindset to rival the best in the business.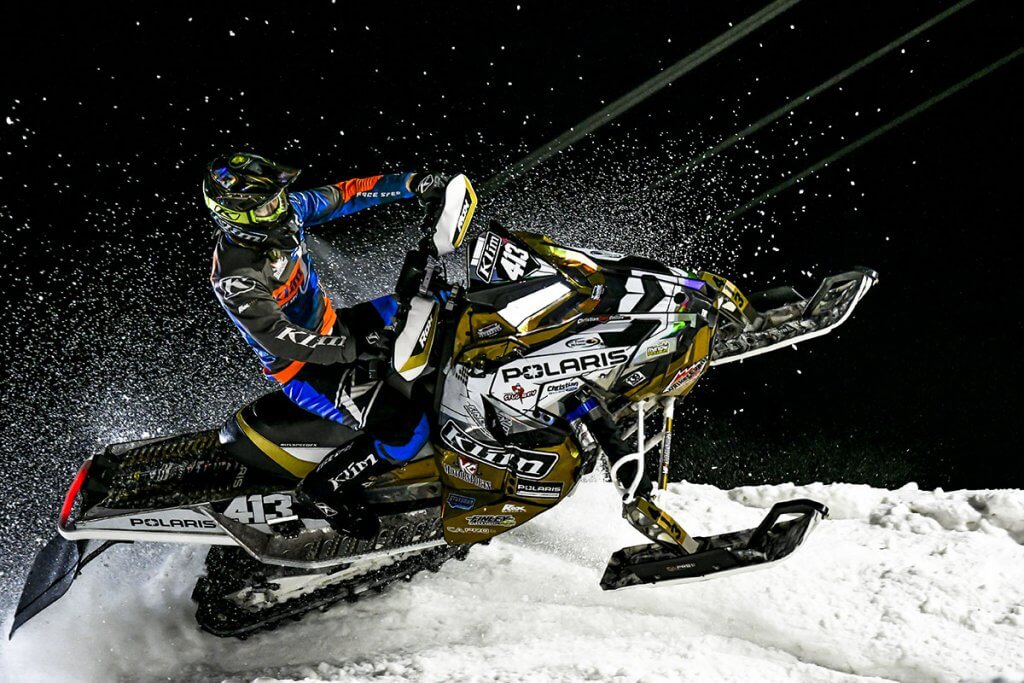 Evan Daudt put a halt to Lebel's win streak in Round 11. The KC Motorsports Polaris racer not only rode incredibly well, but was forced to play an expert game of defense as he held off Lebel for the win. This win marked his first since 2021 in Fargo. The Longville, MN runner has four career Pro Lite wins.
Ryley Bester and Marcus Ogemar claimed Cannonsburg wins in 2022. While both are yet to take their first win of the season, both are sitting in the top-5 and have posted consistent podiums.
PRO WOMEN STATS
1st: Malene Cottew #93 (516 points)
2nd: Taven Woodie #873 (486 points)
3rd: Inanna Hauger #331 (440 points)
4th: Tausha Lange #214 (434 points)
5th: Naeli Lebel #518 (377 points)
What can slow Malene Cottew down? We're not entirely sure. What we do know is that injuries don't do the trick. The two-time champ is bad fast. Is she fast enough to clinch a third national title? Her trajectory has many believing that she can.
In the championship title fight is Taven Woodie. She has been on the podium for every single one of the 12 rounds this season including two gold medals.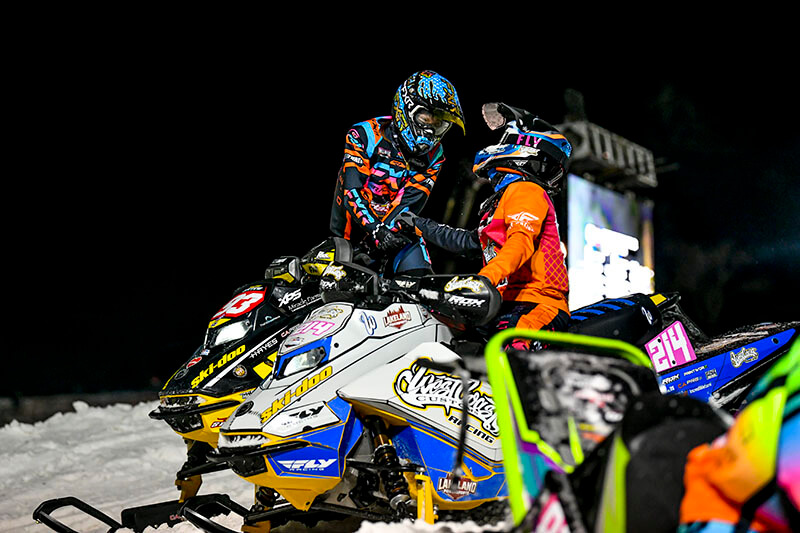 Where to find the battle: Positions 2-4 in the Pro Women Final. The on-track battles between Woodie, Hauger, and Lange have been captivating. In the points right now, it's Inanna Hauger versus Tausha Lange for 3rd. Lange sits just 6 points behind Hauger entering Round 13.
---
You can tune in live all weekend live on FloRacing. For a schedule of events, tickets and event information on the Cannonsburg Snocross National, click here.