Dec. 11, 2012 – Lake Nebagamon, WI
The Blackjack Ski Resort racetrack in Bessemer, MI was an outstanding venue! It was equipped with major air and a brutal "dirty dozen" downhill section making for excellent technical racing. Friday night Ross Martin had a good start off the line in the Pro Final and was in podium position when contact sent him off the track down into a deep ravine. Ross was able to stay on his sled and found his way back to the track… then in last place. With his "it's never over til it's over attitude" he dug deep fighting his way back to a 6th place finish.
Saturday Ross brought home a 2nd place podium in the Pro Final. He came off the line in great shape, secured 2nd in lap two and ran solid until the checkered.
"I have to thank my awesome sponsors and our incredible team who worked until 4am making sure the sled was ready for Saturday and it paid off. I am glad to be back on the podium again!" said Ross Martin.
James Johnstad had an exciting friday night in the talented Pro Lite Division. He ran an excellent race, battled hard taking home a 2nd place podium and a 5th on Saturday. Great Job James!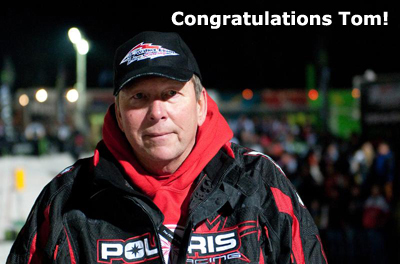 "Bessemer was bittersweet for all of us as this is the last race we will see outstanding Race Director Tom Rager Sr at before his retirement. We wish him only the best and we will miss him. However I have no doubt he will be live Ustreaming us from retirement. Thanks for everything Tom!" Scott Judnick
If you missed the outstanding action in Bessemer, MI at the Blackjack Ski Resort or the Season Opener in Duluth you can catch it on CBS Sports Network.
Duluth – Sunday, Dec 30th 10:30am EDT & Sunday, Jan 6th 10:30am EDT.
Bessemer – Sunday, Jan 13th 10:30am EDT & Sunday, Jan 20th 10:30am EDT.
Join us for the next race at Canterbury Park in Shakopee, MN January 4th-5th.
You can follow Ross Martin on Facebook and Twitter@RossMartin837
Thank You To Our Outstanding Sponsors.
DuPont, Jack Links Beef Jerky, Amsoil, Polaris, Motorfist, SSI, Fly, Fox, EVS, Factory Pipe, Stud Boy, Renton Coil Springs, Jeff Foster Trucking, C&A Pro, HMK, C-Tech,Link Ford, Camoplast, Champion, Mitsuboshi, Holeshot
Judnick Motorsports
Scott Judnick – Team Owner
7621 S. East Lake Blvd
Lake Nebagamon, Wi 54849
Phone: 218.348.6188
scott@judnickmotorsports
www.judnickmotorsports.com