Shakopee. Minn. ~ When the AMSOIL Championship Snocross schedule comes out, the PIRTEK Snocross National gets circled by both fans and competitors. With a balmy night on tap, the crowds lined the racecourse and racers held up their end of the bargain by putting on a spectacular show.
"Canterbury" always seems to offer up something new, from a big winding track with right turns to an elevated start. No matter the layout, it's always a puzzle that the sports top riders must solve. This past weekend, the puzzle was a large oval with deep holes and sharp edges that continuously separated man from machine. In the end, it was those riders who were willing, and able, to hold on who came out victorious.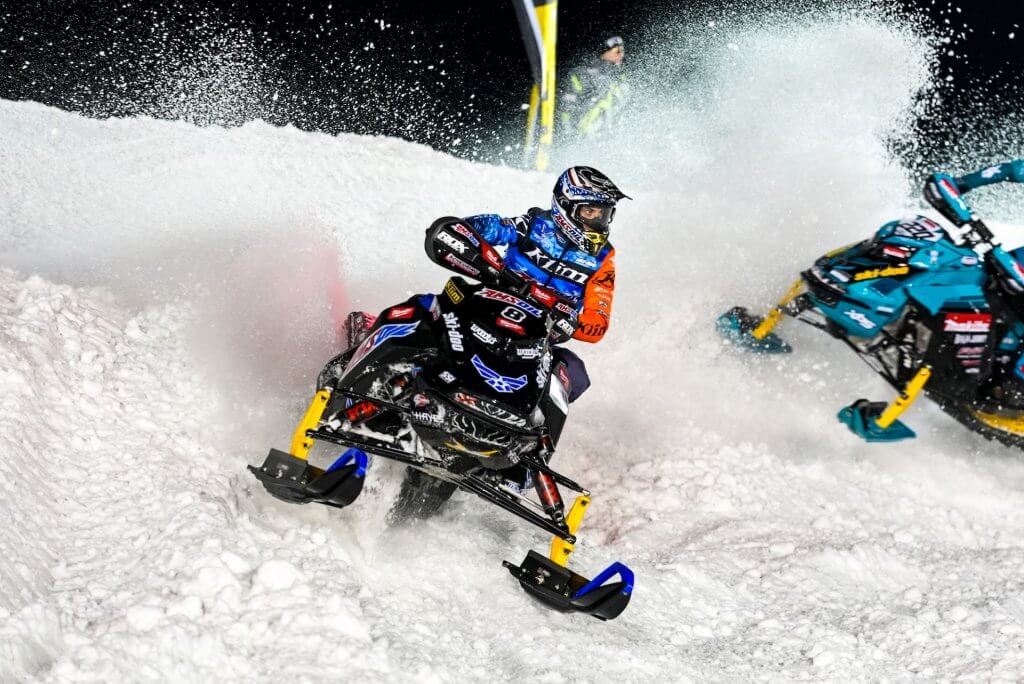 Patenaude Sweeps Shakopee
Hunter Patenaude was a man on a mission in Canterbury this weekend. Friday night's winner came into the two-day event eleventh in points. He left it in second.
Patenaude was unbeatable on Saturday night. After winning his first race of the season on Friday, the Ski-Doo driver was the top qualifier and was in position for a weekend sweep. He mastered another start in the Pro final, and despite late pressure from Francis Pelletier, he stood atop the podium with his third career win.
"There were a lot of bodies flying around and a lot of people crashing so a lot of it just came down to minimizing the mistakes," said Patenaude. "It was a pretty rough track and there were some sneaky ice edges in there, so it was a tricky track. It feels good to sweep the weekend and feels good to come out on top today."
Pelletier was the sole challenger to Patenaude all night. He came through turn one behind the eventual race winner and kept finding ways to tighten the gap throughout the night. In the end, a late charge came up just short as Pelletier earned his first podium of the season.
Third place, meanwhile, took a little longer to sort out. Petter Narsa held the spot early, but then gave way to Aki Pihlaja. It looked as if Pihlaja was going to get his first podium, but late in the race he had to deal with defending champion Elias Ishoel who was buried back in seventh at the start and had a long battle with Kody Kamm before he was able to get into podium contention. With 1:30 left on the clock, Ishoel found the right rhythm and moved past Pihlaja into third and kept his overall points lead, which is now 12 points over Patenaude.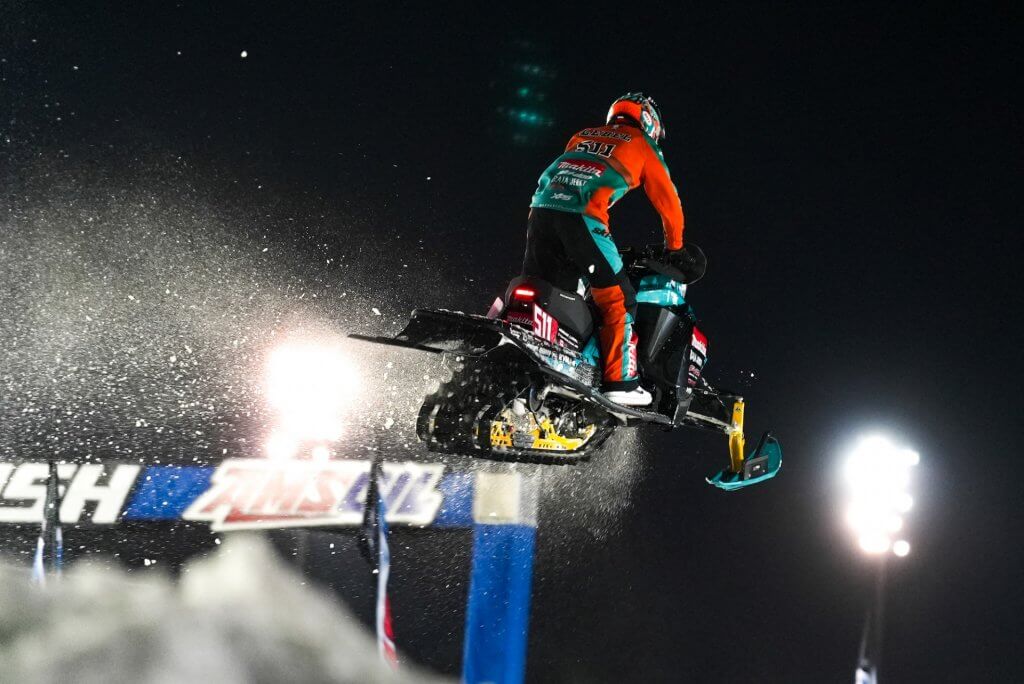 Lebel Holds of Scheele for 15th Career Win
Jordan Lebel had to chase down Ryley Bester on Friday night to get his third win of the season, and early on, it looked to be the same story on Saturday night.
Bester notched another big hole shot and looked to be pulling away from the field before he mistimed a jump and was thrown from the sled. That gave the second place driver, Lebel, the lead. Lebel is a tough rider to beat head-to-head, and even tougher to get if he gets clean air early. His fourth win of the season also marks his 15th career win in Pro Lite.
"It sucks to see another rider going down in front of you," said Lebel. "After that, I just tried to keep it on two skis and ride my race with the line that I had on the first lap. So, yeah, pretty good race."
Evan Daudt found early speed to get past Scheele, but Scheele regrouped and got back into the runner-up spot at the halfway point. Scheele pulled away from Daudt and worked to catch Lebel, but the defending champ was able to work through lapped traffic without any issues and Scheele was unable to close the final few sled lengths to overtake the race leader. Daudt kept pace, finishing a season best third.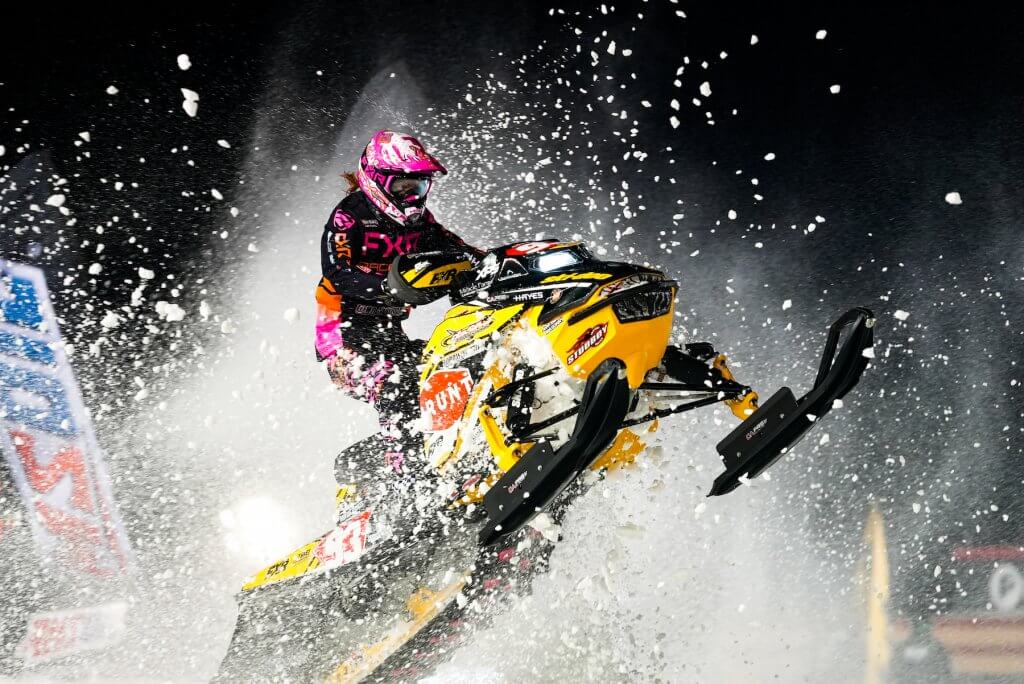 Cottew Goes Wire-to-Wire
Malene Cottew's history over her back-to-back Pro Women championships has been to immediately right the ship if she doesn't find herself on the top of the box.
After Taven Woodie picked up her first win of the season on Friday night, Cottew re-established herself at the top of the pecking order on Saturday. Cottew would go wire-to-wire for her third win of the season and push her overall lead to ten points.
Woodie, who sits in the second overall position, finished second on Saturday. She has not missed the podium this season and has yet to finish a race worse than second. Tausha Lange opened the season with three straight fourth place finishes and was able to turn the tide with a third on Saturday night.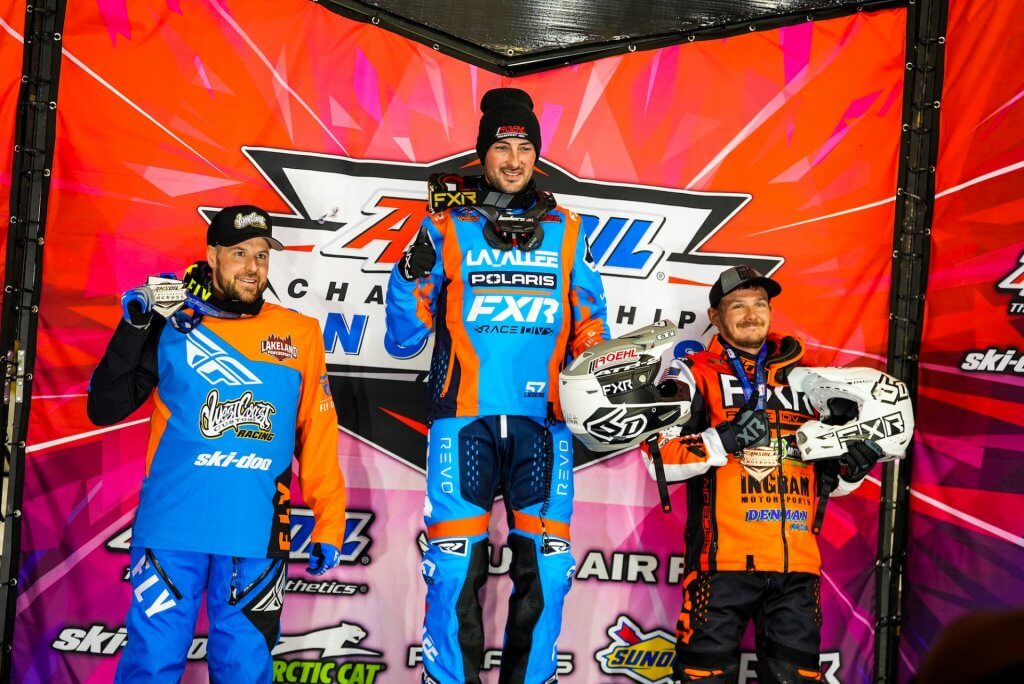 Lieders Leaps to Fifth Straight Pro AM Plus 30 Win
Adam S. Johnson had been grabbing hole shots all day long, but it was Andy Lieders who was a tick quicker off the draw in Saturday night's Pro AM Plus 30 final.
Lieders, who rode to the opening round win in Fargo, continued his best in class performances by winning for the fifth straight time, (dating back to last season.)
Johnson made it two straight podium finishes to start the 2023 season. He backed up his opening round third place finish by crossing the line in second on Saturday night. He had to hold off a hard-charging defending champion, Devin Denman for the runner-up spot.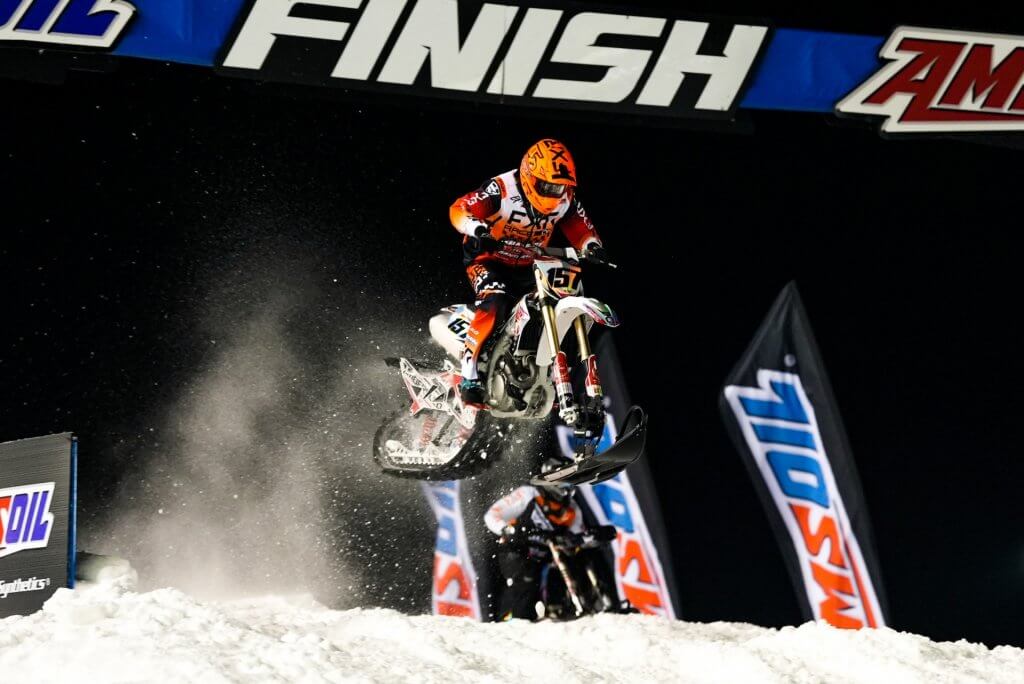 Horbaty Broken, but not Beaten
Troy Horbaty will not be denied a chance at the 2023 Snow Bike title. Even with a broken foot, suffered less than a week ago, Horbaty put in a number of hard charges at Shakopee this weekend, including two strong moto's on Saturday night.
Horbaty won the first moto, going wire-to-wire for his first moto win of the year. In the second moto, he had to find a way around early race leader Yanick Boucher. His opportunity came when Boucher skidded to a stop, putting Horbaty in the lead. From there, Horbaty was able to seal the deal for his tenth career win, and the overall.
Boucher was able to get back on track to finish second. His 2-2 moto finishes on the night was more than enough for second overall. RJ Marnoch, who finished fourth in moto one, finished third overall.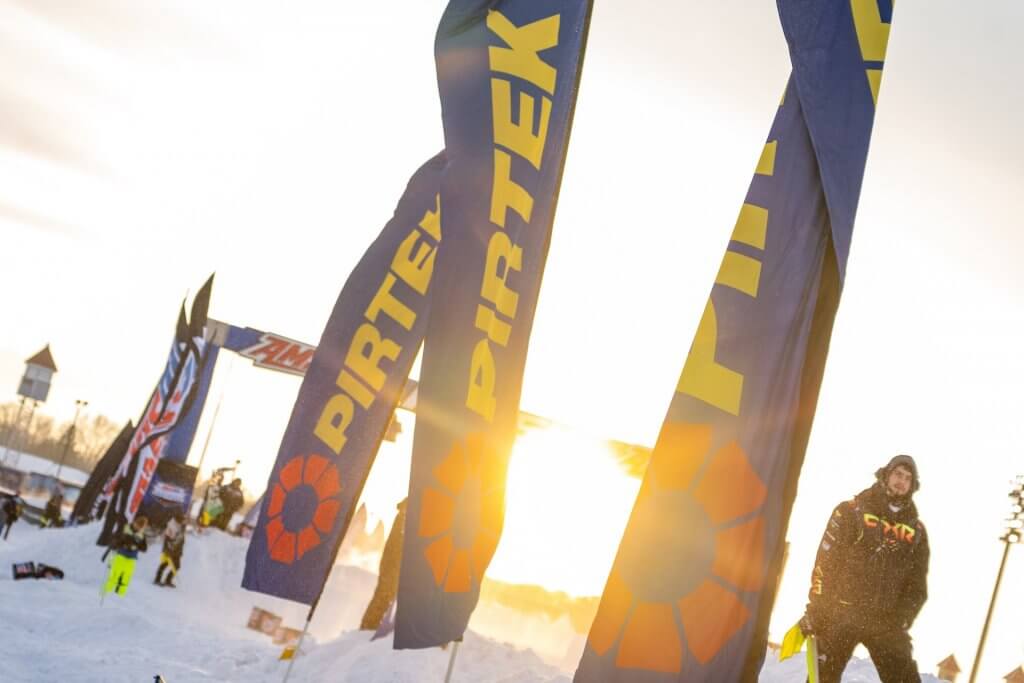 FXR SPORT: Crayden Dillon is on a roll in the FXR Sport class. After starting fifth, Dillon worked his way into the lead and won his fourth straight final on Saturday night, to cement his place atop the overall standings.
Much like Dillon, Domenic Hegman had to work through traffic to get his first podium of the season. Hegman started fourth but was able to get into second position on lap five. Tyler Archambault led the first five laps and was able to stretch his podium streak to three with a third place finish.
SPORT LITE: Brandon Nelson returned to the top spot of the Sport Lite podium on Saturday with a wire-to-wire win. Nelson, who won the opening two rounds in Fargo, backed up his second-place finish with his third win of the year.
Kenny Goike capped off a good weekend of racing by finishing second. Isaac Peterson, who also won the Junior 14-15 final, hit upon his second podium of the year with a third place finish.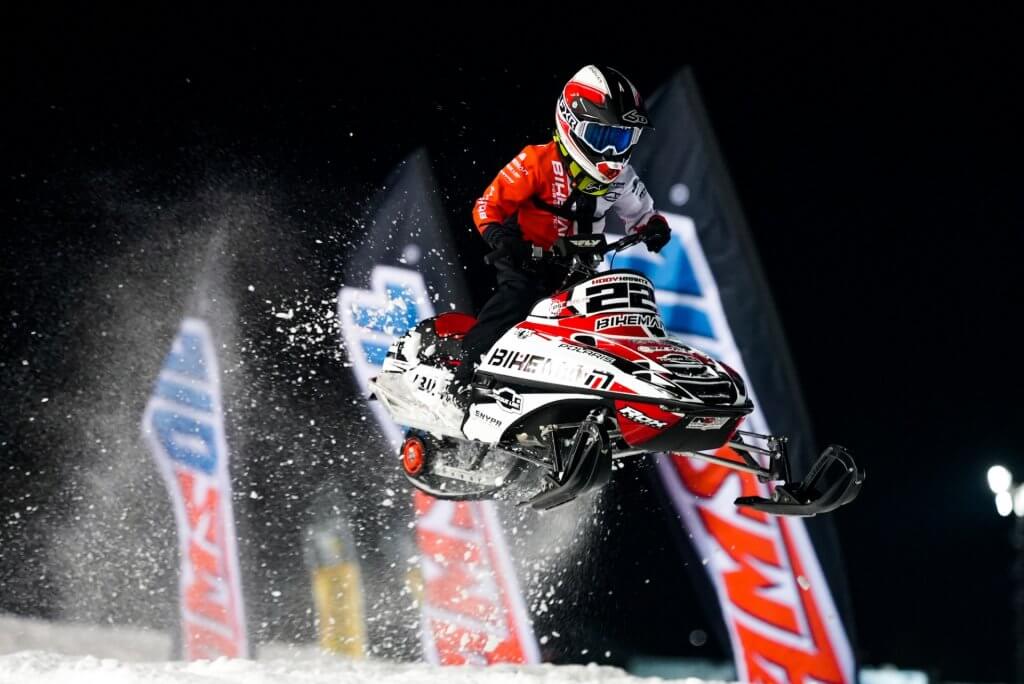 120 CHAMP: Lila Hemmer looked to be cruising to the 120 Champ win on Saturday night, but Kody Krantz spoiled the party. Krantz started sixth but worked his way into the lead with two laps to go and led the field to the finish line for his first win of the season.
Round one winner Ryan Shimanski followed Krantz onto the leader board for his second straight podium finish. George Boettger held off Axel Kruschke for the final podium spot.
Rox Speed FX Stock 200 (Saturday): Four races into the 2023 season and there are now four different winners in the Rox Speed FX Stock 200 class.
The latest victor was the Holden Kuhn, who worked his way up from fourth place start and took over the lead on lap four for his first win of the year. Jack Gelinas just missed the runner-up spot on Friday night but was able to secure it on Saturday. Trenton Peterson earned his first trip to the winner's circle with a third place finish.
Transition 9-13 (Saturday): Tavin Knudson made it a weekend sweep of the Transition 9-13 class with a close win on Saturday night. Knudson edged out Wyatt and AJ Skogquist for the win. Wyatt Skogquist took the runner-up spot for the second night in a row, and the second race he finished just ahead of AJ.
Jr. 14-15 (Saturday): Isaac Peterson was a Junior 14-15 class champion in 2022, and he overtook the points lead on Saturday night with a solid race and win, his first of the season.
Peterson got the lead on the second lap and was able to pull away from Kamden Duffy for the victory. Duffy ran a clean race for the runner-up spot, finishing ahead of Friday night winner Dylan Lebel.
JR. 10-13: Tavin Knudson was already having a heck of a weekend when he won the Transition 9-13 final, but he doubled down by taking home the Junior 10-13 win as well on Saturday. Wyatt Skogquist edged out Ryder Harnois for second.
JR. GIRLS 9-13: Victoria Dillon put together an amazing race on Saturday, picking up the Junior Girls 9-13 final win along the way. It marked the first win of the year for Dillon who took over the overall points lead. Sitting just behind her in the standings is Kendall Rose, who finished second in Shakopee. Ana Wensloff finished third.
Up next for AMSOIL Championship Snocross: U.S. Air Force Snocross National in Deadwood, S.D. on January 27-28, 2023.
You can watch all 16 rounds of the AMSOIL Championship Snocross season plus the AMSOIL Dominator live on FloRacing with a subscription. For more information on how you can follow along this season, click here.