Deadwood, S.D. ~ Friday nightsround five of AMSOIL Championship Snocross in Deadwood, S.D. was filled with freshly fallen snow. The jet stream took care of the snow and brought with it a blast of arctic cold for Saturday night's version of the U.S. Air Force Snocross National.
With temps plummeting below zero, the dry conditions took hold of the Days of '76 Rodeo track, and with it kicked up the less than ideal snow-dust conditions. Mix all of that in with the smallest, tightest racing surface the series offers up every year and it was a wintery blend of bare-knuckle brawl and high-octane assault of the senses. When it all settled down, a streak continued, and popular Swede found a second act in downtown Deadwood.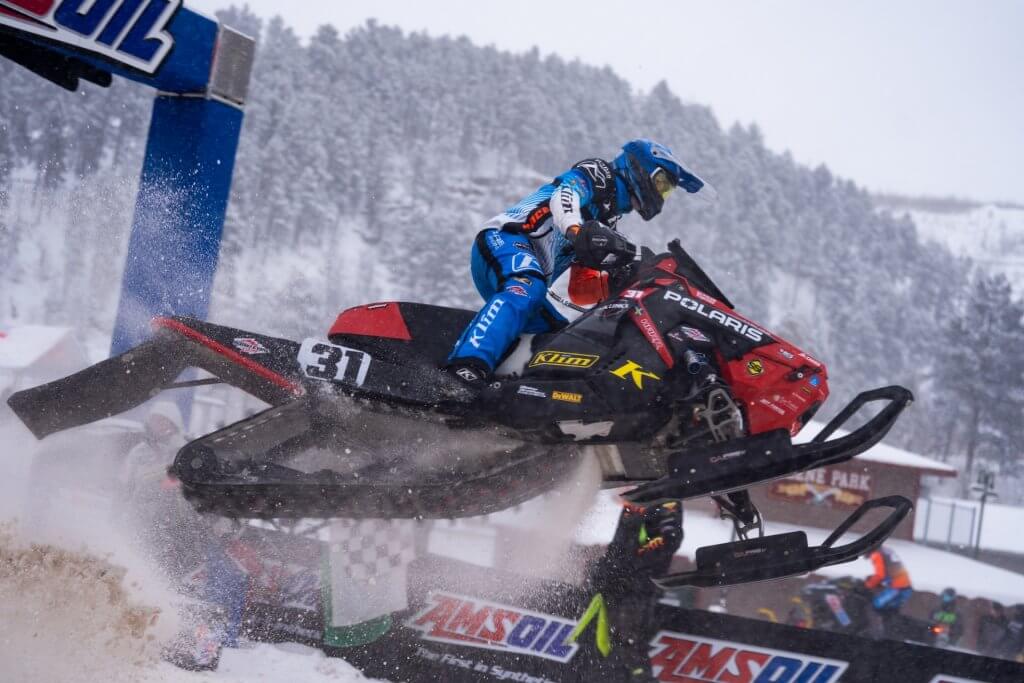 Harr Handles Deadwood with Ease
Emil Harr is known for his ability to chase down the field late in races. That skill wasn't needed for the popular Swedish rider as he grabbed the hole shot and rode fast and smooth to his first win of the season.
It marks the second year in a row that Harr has won in Deadwood. The track, built inside the tight confines of the Days of '76 Rodeo grounds, is intimate, and can quickly knock you off of your sled. It sounds like a perfect track for Harr, who has conquered the circuit two straight years. But Harr preferences lie elsewhere.
"Yeah, I don't really like this track, but we had some good luck today and I had a good start," said Harr. "I was trying to have fun out there and I saw Elias was not too far behind. I tried to stay consistent, and it went well."
Elias Ishoel got the good start he was looking for, coming through the first turn right behind Harr. He wouldn't close the gap on the race leader until late in the race, when he continuously blitzed the tops of the jumps instead of finding smooth rhythm by jumping in. As the clock clicked towards zero, he got close, but Harr was on point for the win. Daniel Benham grabbed his second podium of the year in third.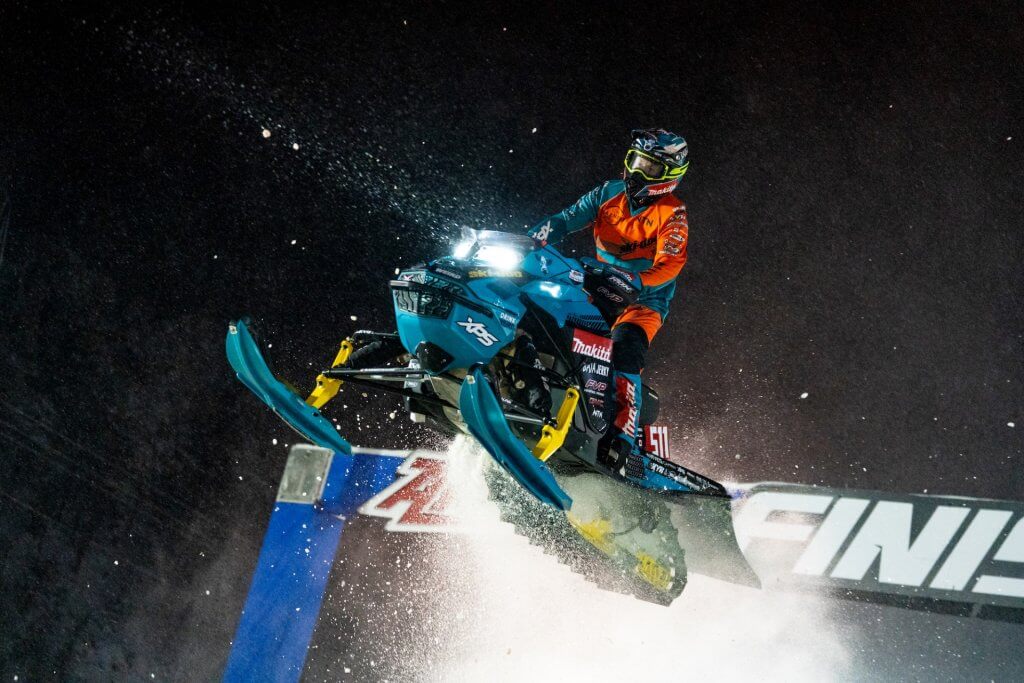 Lebel Ties Mark with Six Straight Wins
Jordan Lebel is a closer. He's also pretty good at starting and everything that comes in between the beginning and end of a snocross race.
Lebel accent in the professional snocross ranks can't be described as a stamp, instead it's more like a stamp that gets pounded down with extreme force, a statement stamp that wakes up the entire room. Lebel once again threw down that thunderous imprint on Saturday night, using a mid-race charge that led to clean air and his sixth straight win to start the 2023 season.
Anson Scheele got the hole shot and looked to be barreling towards his first win of the year, but the front of the pack caught up to the back of the back quickly. As Scheele was navigating through the first group of back markers, Lebel was able to close the gap and slipped into a lead he wouldn't relinquish. The sixth straight win, his 17th career victory, matches his mark to open the 2022 season, when he went on to win the Pro Lite championship.
"You know, I got a really good starts in qualifying today," said Lebel on his success at Deadwood. "And then we just went for it in the final and got that win."
Scheele put together his best day of racing in 2023. He won both of his heat races and tied his best finals finish of the season in second. His effort was rewarded in the standings as he moved into third overall.
Evan Christian also had a strong day at the racetrack. His two heat wins and a third in the final moved him to sixth overall on the season.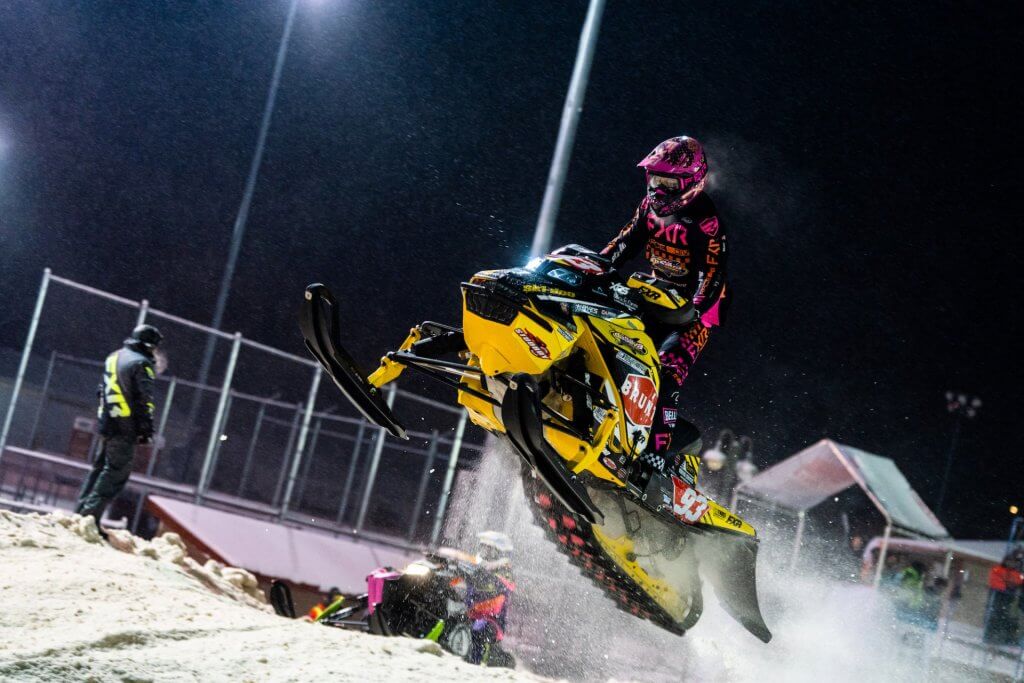 Cottew Captures Fifth Win
It took just a few turns of the tight Deadwood track for Malene Cottew to seize control of Saturday's Pro AM Women's race. Once she got out front, however, she was masterful in her movements, racing on to her third straight class win.
Tausha Lange broke through with her best race of the season, finishing a commanding second over third place rider Taven Woodie.
Frank Fantastic in Deadwood
Ryan Frank made his season debut in Canterbury two weeks ago, but the Pro AM Plus rider made up for lost time by winning in Deadwood on Saturday night. Frank led from start-to-finish to take home win number one.
Scott Doll made a late race pass to get into the runner-up spot and held on to notch his first podium of the 2023 season. Defending champion Devin Denman finished third for his third straight podium finish. Adam S Johnson finished fourth but left Deadwood with a 16 point lead over Andy Lieders, who didn't make the trip to South Dakota.
FXR SPORT: Crayden Dillon missed out on the top spot of the FXR Sport podium on Friday night in Deadwood, but the overall points leader made up for it with his fifth win of the year on Saturday.
While it was a wire-to-wire win for Dillon, Drew Freeland had to work through traffic to get on the podium. He started seventh and didn't get into podium position until there were two laps to go and finished second. Cameron Cole ran the same game plan as Freeland, finishing third.
SPORT LITE: Dylan Lebel broke through in Sport Lite on Saturday, earning his first class win of the season. While Lebel led from start to finish, he saw steady pressure from Brady Freeland and Kenny Goike, who were pushing each other trying to catch the race leader.
In the end, Freeland would finish second, his fourth trip to the podium in 2023. Goike's third was his second podium in the past three races and pushed him into fourth overall.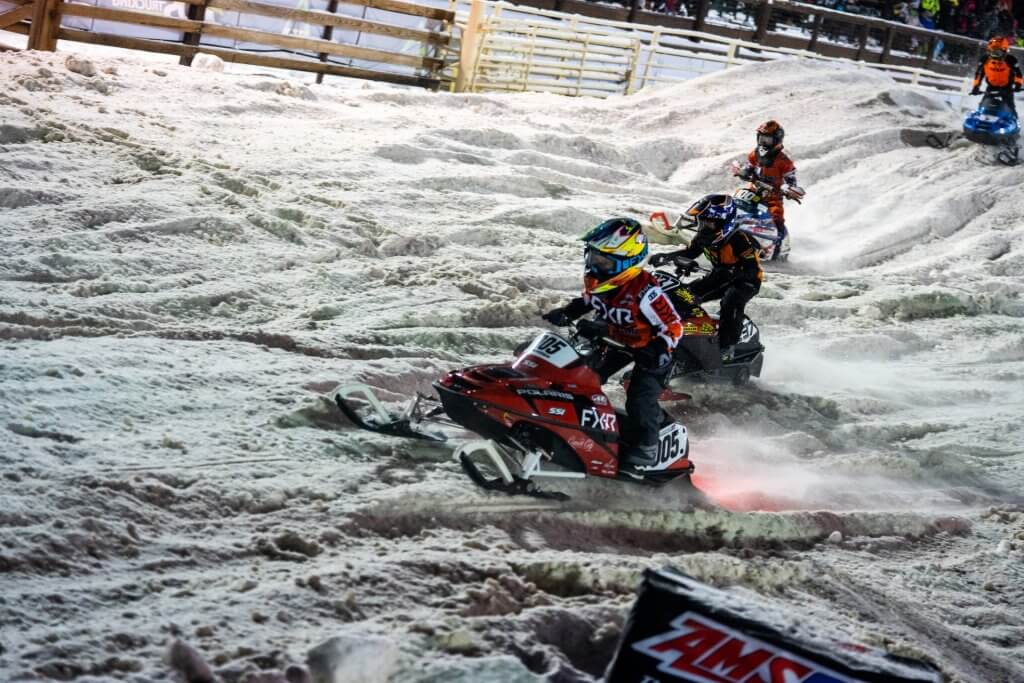 120 CHAMP: Ryan Shimanski notched his second 120 Champ win of the year on Saturday night. Shimanski was able to hold off round two winner Kody Krantz for the victory. Saturday's Stock 200 winner George Boettger finished in third.
Rox Speed FX Stock 200 (Saturday): George Boettger won a drag race with Lincoln Skar on Saturday night, taking home his first Stock 200 win of the season in the process. For Skar, it also marked his first trip to a Saturday podium in 2023, as was the case for third place finisher, Lane Ohnstad
Transition 9-13 (Saturday): Tavin Knudson secured a seven second lead and his second straight weekend sweep of the Transition 9-13 class on Saturday. Owen Eide encountered what appeared to be a mechanical issue late in the race, allowing AJ Skogquist and Jackson Houkom to move into the final two podium spots.
Transition 8-10 (Saturday): Tripp Knudson has found a great amount of success in Saturday's Transition 8-10 class this season. Knudson took his third straight finals win in Deadwood. Logan Bruch captured his third straight podium finish, cross the line ahead of third place finisher Hudson Kuhn.
Jr. 14-15 (Saturday): Isaac Peterson held onto his Junior 14-15 class lead thanks to his second straight win on Saturday. Peterson crossed the AMSOIL Finish Line with a hard-charging Dylan Lebel in tow. Friday night's winner Gustav Vesterlund finished in the third position.
JR. 10-13: Kendall Rose was credited with the Junior 10-13 class win on Saturday, moving her into second overall. AJ Skogquist took home second, with Ryder Hayes rounding out the podium in third.
JR. GIRLS 9-13: Kendall Rose was also the big winner in the Junior Girls 9-13 final in Deadwood. She held off Ana Wensloff – two sleds behind Ana Wensloff by less than two sled lengths for her first class win of the year. Round two winner Victoria Dillon finished third.
Up next for AMSOIL Championship Snocross: U.S. Air Force Snocross National in Salamanca, N.Y. on February 17-18, 2023.
You can watch all 16 rounds of the AMSOIL Championship Snocross season plus the AMSOIL Dominator live on FloRacing with a subscription. For more information on how you can follow along this season, click here.