Sioux Falls, S.D. ~ The second half of the 2022-23 AMSOIL Championship Snocross season took a first time trip to Huset's Speedway in Sioux Falls, S.D. The Octane Ink Snocross National featured a track that rewarded those that were both fearless and safe, often in the same turn or obstacle laid out on the roughed up racetrack.
Champions find ways to mitigate mistakes and ensure success no matter the conditions thrown at them. In Sioux Falls, and round nine marking the official start of the stretch run, it was the series defending title holders that showed up and led the way around the 3/8 mile, high-banked speedway.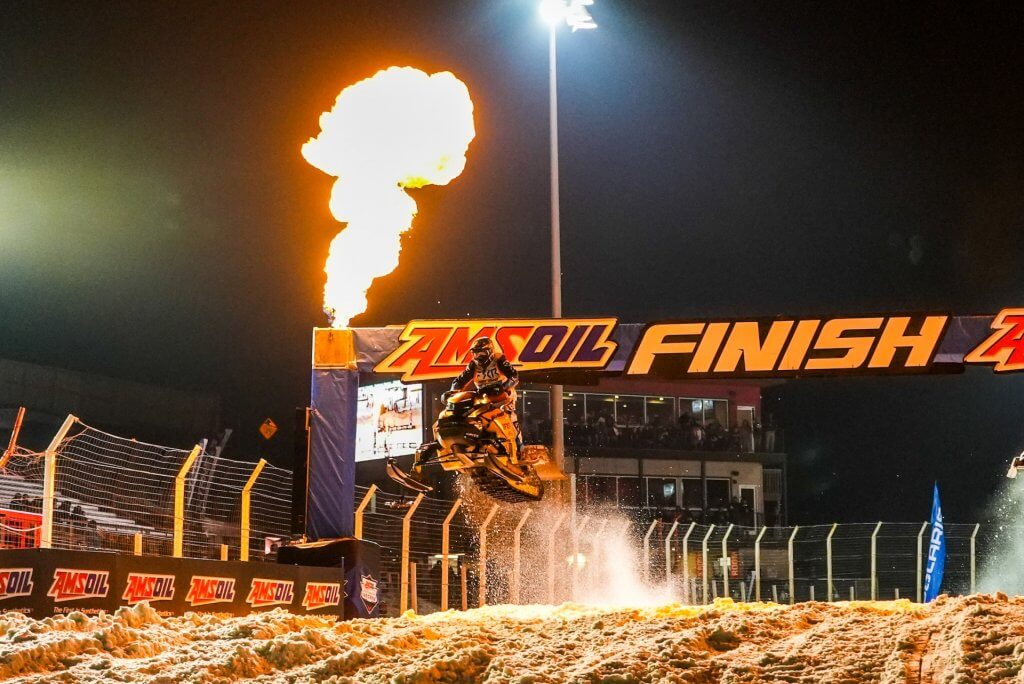 Ishoel Handles Gnarly Track in Pro Win
Health and confidence are fueling Elias Ishoel's run to a fifth straight Pro championship. After dealing with an injury in the off-season, Ishoel has been picking away at finding the consistent success that has manifested itself over the past few seasons. In Sioux Falls, Ishoel pushed past consistency and right into dominance as he picked up his third win of the year.
The Ski-Doo rider has been getting cleaner starts over the past few rounds and that continued in South Dakota. Ishoel came through turn one bar-to-bar with Cole Cottew and just ahead of Dan Benham. He quickly separated himself from the field and attacked a racecourse that was the roughest of the season, extending his lead with every passing lap on his way to his fourth straight podium finish. 
"The track was super gnarly, so I got a little bit of a gap in the first couple laps and was trying to maintain it," said Ishoel. "The track has a kind of easy rhythm, but it has some gnarly holes underneath so you kind of need to look out for those. I was just trying to stay smart at the same time as trying to go as fast as possible in the safest way, without tipping over and yeah it worked out."
Benham is getting momentum as the series heads into its second half. The Arctic Cat rider took over second after Cottew was forced to serve a black flag on the second lap after jumping the start. But Benham was quick through the rough stuff, riding uncontested for his second straight podium and third in the past four races.
Hunter Patenaude and Adam Peterson had a bar-to-bar battle for the third position, and that gave Emil Harr an opportunity to close the gap.  Harr got around Patenaude with two minutes left on the clock and then one-minute later was able to get past Peterson for the final podium spot. Harr, who started tenth off of the start, picked up his fourth podium finish of the season.
Lebel Extends Streak to Nine in Pro Lite
Two weeks ago, at ERX Motor Park, Jordan Lebel broke Elias Ishoel's record of seven straight wins. He extended that mark to nine after a flawless final on Friday night in Sioux Falls.
Lebel did something new as he stayed undefeated this season: he grabbed his first hole shot of the season in a main event. With Bester on his tail, the clean air was a welcome reprieve for Lebel. He was spotless in the final, flicking the sled around tight turns and leaping off out of the big holes with confidence and an ease that he humbly dismissed in his post-race interview.
"I think the biggest challenge was to find the lines on the track," said Lebel. "The track was pretty tacky, and it was hard to find all the lines out there. But I was able to stick to my lines the whole final, and after the hole shot, I just cruised to the finish line."
Bester tried to keep up with Lebel, but the rough track forced the Polaris rider to focus on staying smooth and be ready to capitalize if the race leader bobbled. While that didn't play out, Bester did keep pace on his way to his fifth podium finish of the season.
Despite an on-going injury, Marcus Ogemar continues to grind through a successful 2023 campaign. Ogemar was third off the start and kept looking for new lines as he tried to catch Bester. It was a good enough ride for him to earn his third straight podium finish as he increased his hold on third overall.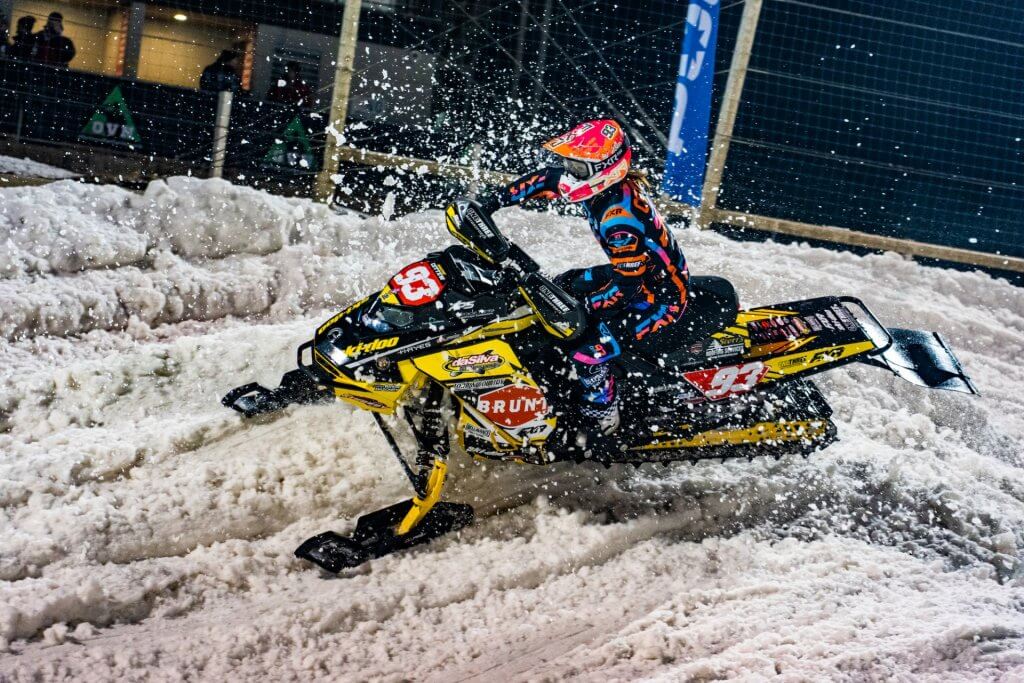 Cottew Cruises to 35th Career Win
A dominant performance on Friday night extended Malene Cottew's points lead, but it was also a major milestone for the defending champion. By winning her seventh race of the season, Cottew also notched her 35th career win in the Pro AM Women's class.
One round after crashing out in the final, Cottew rebounded with a dominant win in the Sioux Falls opener. She got the start she needed in the final and showed off exceptional strength and ability throughout the race to pick up the win.
Round eight winner Taven Woodie was up for the challenge on Friday but was unable to overcome Cottew's early lead. Woodie would put together another well-run race, finishing second and keeping her podium streak alive at nine straight. Inanna Hauger finished third for the third straight race.
FXR SPORT: Cameron Cole is starting to find his groove in the FXR Sport class. Cole scored his best finish of the season by taking the victory in Friday night's final. He led from start-to-finish as he picked up his second podium of the year.
Ingebright Hoelsaeter and Zak Farmer also found their best finishes of the season waiting for them in South Dakota. Hoelsaeter took over the runner-up spot on the second lap and was able to hold off a hard charging Farmer for the second position. Farmer, who started sixth, worked his way into his finishing position of third on lap four.
SPORT LITE: Kenny Goike picked up his first Sport Lite win of the year in round eight and backed that performance up with a come hard-charging victory in round nine on Friday night.
Goike started third and found himself in the lead four laps later. His Friday night ride marked his fourth straight podium in Sport Lite. Caiden Pflipsen finished second after leading the first three laps. Isaac Peterson started sixth before putting his head down to pick up his fifth podium in Friday night action this season.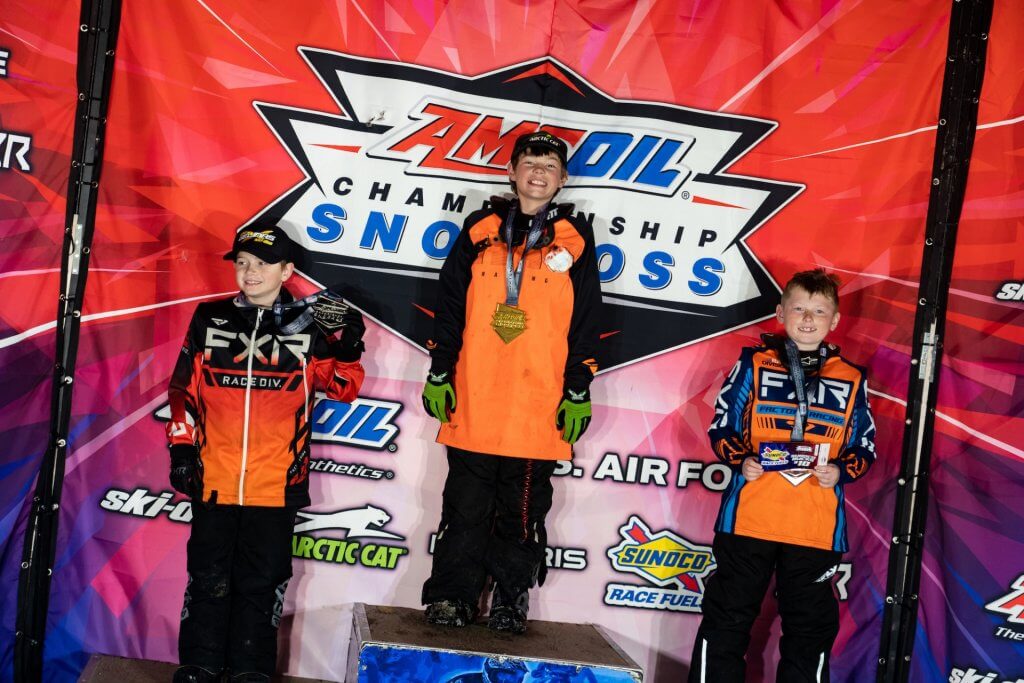 Rox Speed FX Stock 200 (Friday): Colden Harnois made his season debut a successful one by winning the Rox Speed FX Stock 200 final on Friday. Harnois, who also won a heat race, led from start-to-finish. Points leader Jack Gelinas crossed the line in second, with Tucker Kraling finishing third.
Transition 9-13 (Friday): Tavin Knudson picked up his first of two wins on Friday by taking the victory in the Transition 9-13 final. It's Knudson's fourth straight podium of the season as he leads the season's points race. Lincoln Meyer and Carter Meyeraan had a great battle for second. Meyer was able to hold off the challenger as he picked up his first podium in 2023. Meyeraan finished third.
Transition 8-10 (Friday): Tavin Knudson hasn't missed a podium this season on Friday nights. Knudson took home first Transition 8-10 victory of the year in Sioux Falls. He finished ahead of Hudson Kuhn, who notched his second trip to victory lane in 2023. Logan Bruch podiumed for the second straight race, finishing just one second behind Kuhn.
Jr. 14-15 (Friday): Caiden Pflipsen has won the last two Junior 14-15 (Friday night) finals. It was a wire-to-wire win for Pflipsen, who withstood a late charge from points leader Isaac Peterson for the win. Peterson's runner-up marked his fifth straight podium finish. Ethan Boon finished third, his first podium of the season.
Up next for AMSOIL Championship Snocross: Octane Ink Snocross National in Sioux Falls, S.D. on March 4, 2023.
You can watch all 16 rounds of the AMSOIL Championship Snocross season plus the AMSOIL Dominator live on FloRacing with a subscription. For more information on how you can follow along this season, click here.