Elk River, Minn. ~ ERX Motor Park in Elk River, Minn. has become the official home of snocross over the past several years. Not only is it home to a plethora of the sport's top riders, but its development program for younger riders has also changed the landscape of AMSOIL Championship Snocross.
Change is the keyword as the series heads back to ERX this weekend for the AMSOIL Snocross National. Two major changes stood out heading into round 11. First, the Pro class would be competing in a Triple Crown format. Instead of the traditional two heats and a final format, the premier class would have three, eight-minute (plus two laps) finals. Each would register overall points and whoever garnered the most points through the three rounds would be dubbed the night's overall winner.
The other noticeable change was the running of the racetrack in reverse. The series had just rescheduled its New York rounds to ERX a few weeks prior and they were searching for ways to mix up the familiarity drivers had with the circuit. More right-handers, deep holes, and a whole lot of uncertainty gave the ERX faithful a whole lot of energy on Friday night.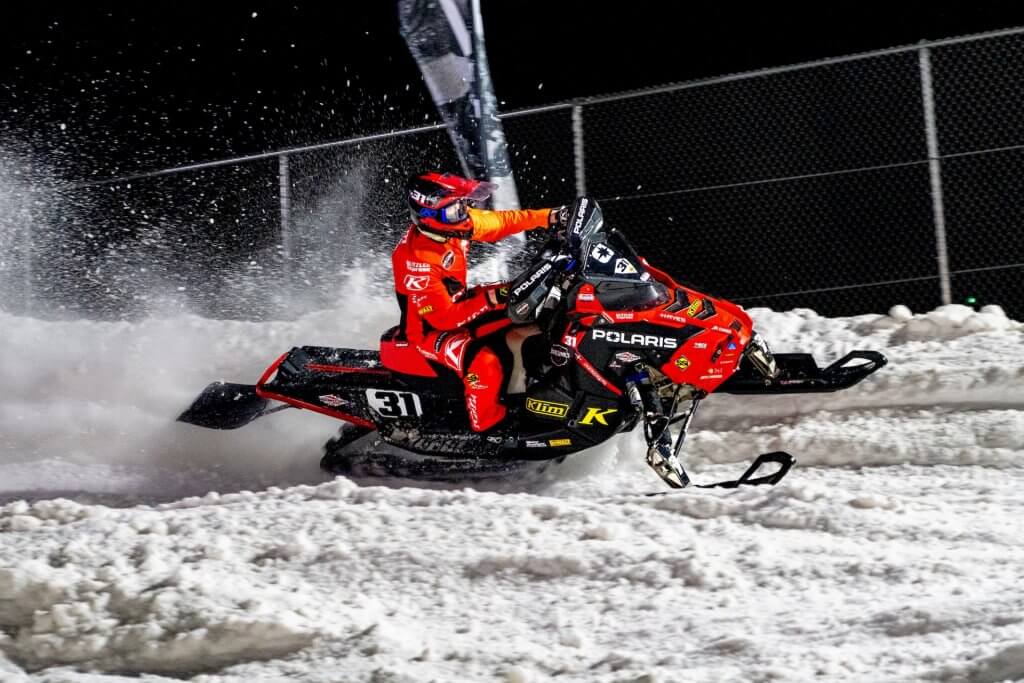 Inaugural Triple Crown Goes to Hardworking Harr
Three finals. Twenty-four minutes of seat time. All for increasingly important championship points. It would take a great deal of strength for a rider to pull off the overall on Friday night. Emil Harr has strength in spades.
Adam Peterson took the early lead, but Harr was in the initial mix. And much like he has over the past few weekends, Harr kept pushing forward with a suddenness that never comes to rest.
Harr overcame a sixth-place start, and an early exit from Peterson, to power his way to the round-one win. He took the lead from Francis Pelletier on lap eight, and never looked back. Pelletier was second, with Daniel Benham in third.
In the second round, it was Aki Pihlaja with the hole shot and the convincing win. Defending Pro champion Elias Ishoel held down the runner-up spot with Pelletier finishing third. Harr again started eighth but moved up to a pivotal fourth.
In the final race of the evening, Adam Peterson again started in clean air. Two laps later it was once again Harr holding point. Through three finals, Harr never lost his strength or hard-charging style as he took his second win of the night and picked up a class-leading 39 points.
"It was a good day and I had good finals throughout the whole day," said Harr. "I got stuck in a corner with Benham in that second round, but I still had good speed and I felt good the whole day. I'm super happy with our first place and I really needed this."
Pelletier was consistent all night, and he and Harr were the only two riders to finish in the top three in all three races. His second and third-place finishes, paired with a fifth-place ride in the third race gave him a second overall placement.
Thanks to his round two win, Pihlaja would go 6-1-6 for third overall.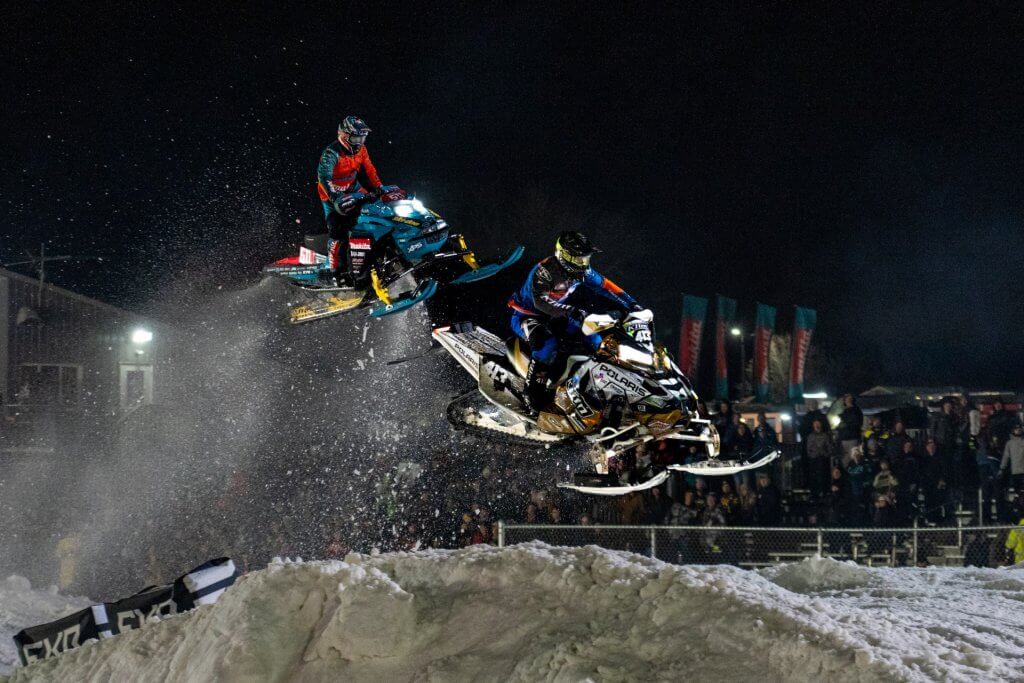 Daudt Hands Lebel First Loss of Season in Pro Lite
Evan Daudt's white and gold sled was glittering under the ERX light on Friday night. It may have been prophetic, but nothing shined brighter than the veteran rider as he brought Jordan Lebel's 10-race win streak to an end in one of the best races in recent memory.
After grabbing the hole shot, series announcer Robbie Malinoski said of Daudt: "he's crazy fast when he gets a clean track." Daudt lived up to the billing on Friday night, but he had his hands full with the defending champion Lebel for the entire second half of the race.
Daudt made it clear of the field early, while Lebel came back in fourth. But Lebel wasn't set on eating roost for long, He moved into the runner-up spot four minutes into the eight-minute final, and with two minutes remaining, he and Daudt were neck-and-neck. They got extremely close about 30 seconds later when they literally locked their skis together. But after a brief tangle, Daudt cleared with the lead. From there, Lebel threw every trick in the book at Daudt, but the race leader played an incredible game of defense to hold off the points leader. The win was Daudt's fourth career victory and his first since the 2021 season.
"I'm so pumped. I just rode my tail off out there," said Daudt. "When I started hearing the sled come up, I was looking for that teal sled, and I'm like OK it's time to kick her up a notch. To be up here on top of the boxes feels like a dream."
Lebel's second-place finish stretched his podium streak to ten, as well as increased his points lead over Ryley Bester who finished outside of the top ten. Marcus Ogemar bounced around the top few positions early in the race but secured his fourth podium in the past five races with a third-place ride.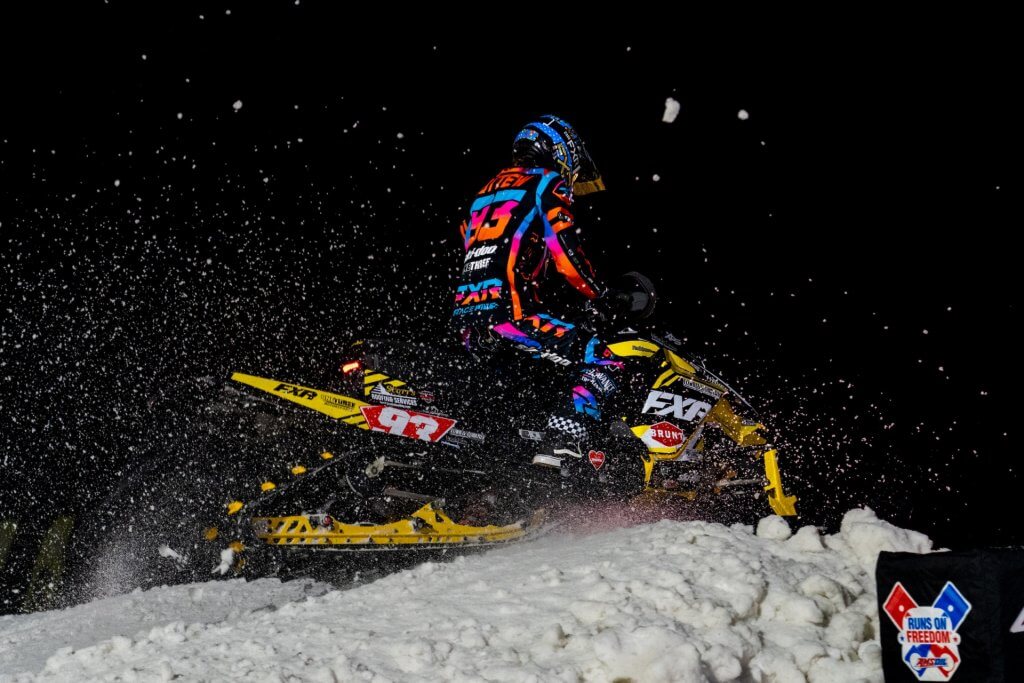 Pro Women's Final Win for Cottew
Malene Cottew keeps on counting wins. The defending champion kept her winning streak intact as she picked up her 36th career Pro AM Women's win.
Early in the final, Cottew had to work around a smooth and quick riding Tausha Lange for the lead. The two would get extremely close later in the race as the leaders worked through lapped traffic, but Cottew was able to pull away for the win.
For Lange, her runner-up finish marked her fourth podium of the season. Taven Woodie pushed her podium streak to 11 after finishing third.
Horbaty Extends Snowbike Streak
Troy Horbaty is rolling in the Snowbike class and he has kept the winning formula simple. Horbaty is getting hole shots and not making mistakes, which was the case in both motos on Friday night.

Horbaty grabbed the lead twice in the ERX opener and was relatively unchallenged as he won both motos to take the overall. It marked four straight moto wins for the points leader.
Defending class champion Jesse Kirchmeyer went 2-2 on Friday night for second overall. Bobby Pagel finished third in the first moto, but fourth in moto two. That opened the door for Kolton Krajicek, who went 4-3 and owned the tiebreaker over Pagel for third.
FXR SPORT: Emil Mikalsen was credited for the FXR Sport win on Friday. It marks Mikalsen's first win of the year and first podium finish since round two.
Cameron Cole was second, his third straight podium. Tyler Archambault finished third.
SPORT LITE: Dylan Lebel worked his way to the front of the Sport Lite pack on Friday night and never looked back. Lebel, who ran the only sub-45-second lap of the race, led from start to finish and picked up his second-class win in 2023.
Brady Freeland kept Lebel honest on his way to the runner-up spot. Lawrence Eeg finished third, his first podium of the season.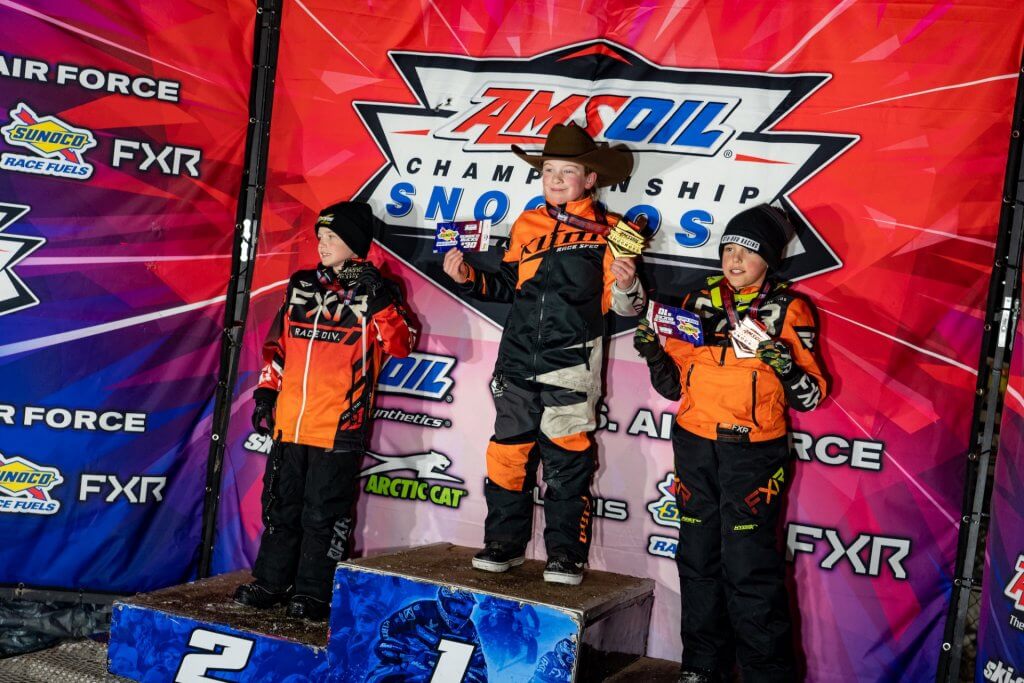 Rox Speed FX Stock 200 (Friday): George Boettger pushed his way to the front of the Rox Speed FX Stock 200 final on Friday night, and in doing so, picked up his first win (Friday night) of the season.
Points leader Jack Gelinas stretched his podium streak to three after he won a drag race to the finish line with Tayte Blasey for the runner-up spot.
Transition 9-13 (Friday): Points leader Tavin Knudson held the lead on lap one, but it was AJ Skogquist's night in Transition 9-13 (Friday). Skogquist grabbed the point on lap two and pulled away from Knudson for his second win of the season. Knudson would ride alone to the runner-up spot. Ryder Harnois earned his first podium of the year by finishing third.
Transition 8-10 (Friday): Ryan Shimanski's four-race winning streak came to an end in South Dakota last weekend, but he found the lead on the third lap at ERX and piloted his way to his fifth Transition 8-10 win of the season. Logan Bruch led early before finishing second, his third straight trip to victory lane. Jack Gelinas crossed the line in third.
Jr. 14-15 (Friday): Dylan Lebel notched his second win of the year in Junior 14-15 (Friday) action on Friday night. Lebel, who has also won the past two Saturday night class races, led from start to finish. He now sits just one point behind Isaac Peterson, who finished second at ERX. Caiden Pflipsen finished third.
Up next for AMSOIL Championship Snocross: AMSOIL Snocross National at ERX Motor Park in Elk River, Minn. on Saturday, March 11, 2023.
You can watch all 16 rounds of the AMSOIL Championship Snocross season plus the AMSOIL Dominator live on FloRacing with a subscription. For more information on how you can follow along this season, click here.