Action Photo: James Lissimore
AMSOIL Ski-doo Pro Open racer Tim Tremblay scored an impressive seventh overall at Sunday's round of CMRC national motocross in Gopher Dunes, Ontario. At times, Tremblay has been a standout on the Canadian national motocross scene, winning an MX2 main event in 2007 and notching podium finishes in the premier MX1 class in 2009 and 2012. Snocross is still the main priority for the 2012 AMSOIL Championship Snocross Series champion, but moto is very much still on his radar.
We spoke to Tim following the race to get his take on dual career paths and his return from injury last winter. "Last year I was supposed to race the nationals and I ended up breaking my hand and my nose so I couldn't do it," said Tremblay. But this year I am feeling really good and I wanted to do it again, I wanted to have fun and race with those guys. There are six more nationals and I'm going to race four of them and then three more provincials."
"The guys this year are pretty fast, Mike Alessi and Colton Facciotti is in good shape, Josh Hill, Chisholm and Kiniry, so the top six or seven are pretty good. The first moto I was in fourth for maybe the first 15 minutes and I got a little tight. I wasn't used to that pace so I slowed down a little and got passed. The same thing in the second moto. I was in fifth and was battling with Chisholm and Josh Hill and I got a little tired again. I was battling with Hill for fifth and the last lap I slowed just a bit and got passed for sixth. I think my speed was good but the pace is different than the provincials, all the way to the end, so I thought it was better to pace myself and not crash and just finish the race on two wheels.(laughs)"
When asked if he still had aspirations of being a full-time motocross racer Tremblay replied that he hasn't ruled it out but that snocross is his day job. "I really like it," said Tremblay. "If I could get a good ride in the nationals I would do it. There's always injury, but I really love motocross and want to do it as long as I can."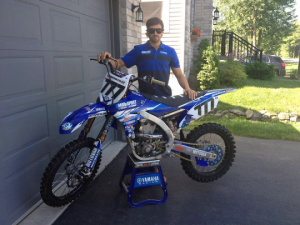 Tim Tremblay at home in Quebec with his MotoSPORT Yamaha.
As far as snocross goes, the 2012 Pro Open champ was certainly not happy leaving the tour midstream last season with a fracture tibia plateau and is eager to return to the form that made him a regular on the podium. "Yeah, my leg is pretty much 100 percent so I am feeling really strong," he replied. I was a little scared that it was not going to be 100 percent back for the season but it's pretty good. I think I'm doing everything on my side for fitness. I learned some more stuff about food this year, I'm just working on making myself the best.
Steve Scheuring is working really hard to make more power so hopefully we can have a better sled and get out up front right away this year. It's been the Tucker show out there and I don't wan t him to win all the races again. I'm working hard to make myself the best ever and if we can have a machine that get a little better starts we'll be good."