Elk River, Minn. ~ The fourth weekend of AMSOIL Championship Snocross was scheduled to make its triumphant return to New York, but a winter of warmth and recent rains put a halt on the annual trip to the Empire State. It also meant the weekend would be rescheduled in Minnesota at ERX Motor Park, which is home to a majority of the world's top riders each season.
Familiarity ruled the roost in Elk River on Friday night, as several riders turned their home track into a snocross fun zone. In the end, the current points leaders kept their positions thanks to flawless runs at the U.S. Air Force Snocross National.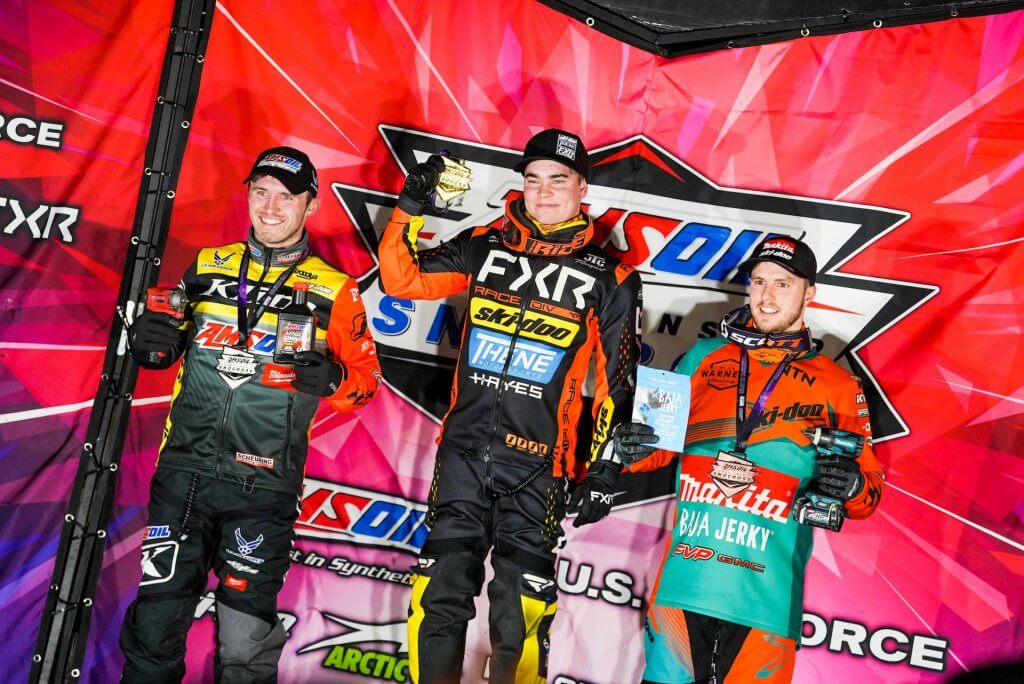 Ishoel Leads Ski-Doo Sweep in Pro Open
It only seems that Elias Ishoel is having a slow start to the 2023 season. Through six rounds, the four-time defending champion only had one win. One of the reasons was the lack of consistent starts in finals. At ERX for round seven, everything fell into place for Ishoel, who brought forth a dominant run, from start-to-finish.
Logan Christian pulled the Stud Boy Hole Shot, but Ishoel was bar-to-bar on the straight stretch and slipped past Christian for the lead. It was the start Ishoel had been searching for all season long, and with the cleanest air he has seen all year, he flew around the ERX track for his second win.
"I wanted a good start. That makes everything so much easier," said Ishoel. "I've been working a lot on them so that's helped, for sure."
Christian continues to add podium finishes to what is becoming one of the best seasons of his career. The Ski-Doo rider was quick all race long, and never lost sight of Ishoel as he earned his third podium of the year.
Francis Pelletier made it a Ski Doo sweep of the podium with a strong ride in third. He was challenged early in the contest by Kody Kamm but was able to pull away to secure his second podium finish with a third place ride. Kamm would finish fourth and Adam Peterson rounded out the top five.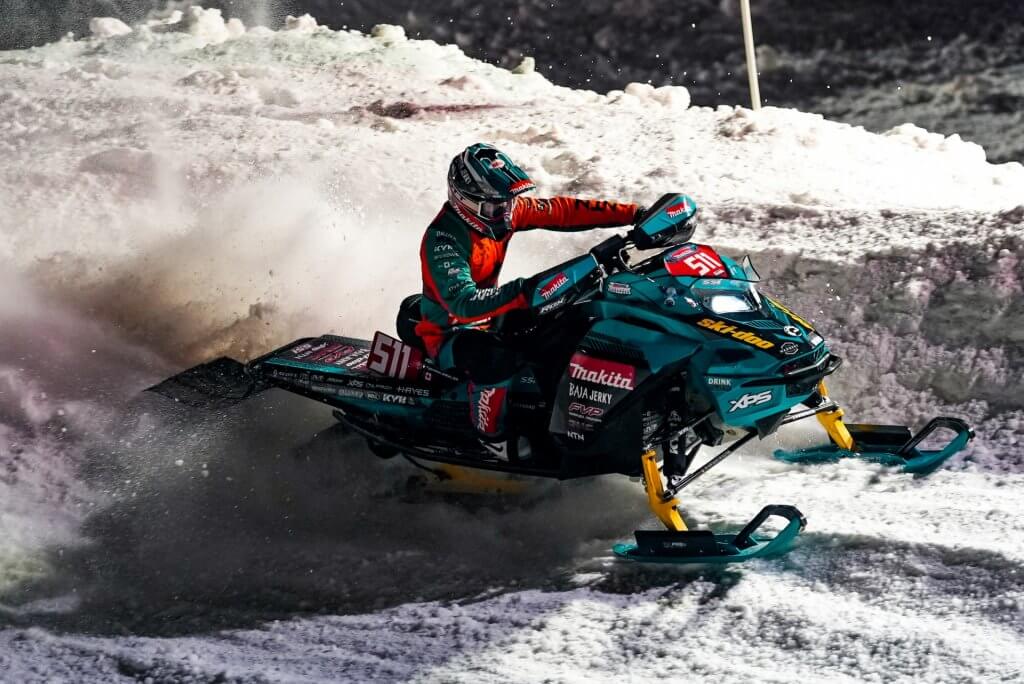 Lebel Lands Seventh Straight Pro Lite Win
Jordan Lebel makes this snocross racing thing look pretty easy. It's not, and we all know it, but Lebel has been so smooth and dominant this season, it is easy to see how sometimes myth becomes reality.
Over the past two Pro Lite finals, Lebel has been flawless. He led every lap in Deadwood, and then backed it up with a wire-to-wire win at ERX on Friday night. It marked his seventh straight win to open up the 2023 campaign, besting his six straight that started the 2022 season.
"I just focused on my start," said Lebel. "I had a great start in the final and the track had big jumps, a Supercross kind of track. So yeah, I just held my line, and it went great."
Topi Posti played a big part in the beginning and the end of the race. Posti held the edge off the start and kept Lebel from getting a completely clean start. But Lebel had more forward bite on the straight away. So did Marcus Ogemar, who also was able to get around Posti for and rode to his best finish of the season in second.
Posti would hold down the third and final spot on the podium for the rest of the final, sans the last lap. That's when Andy Pake was finally able to get around Posti and the two vaulted out of the final turn neck-and-neck. It came down to a photo finish with Pake edging out Posti by .144 of a second, or about the length of a ski loop.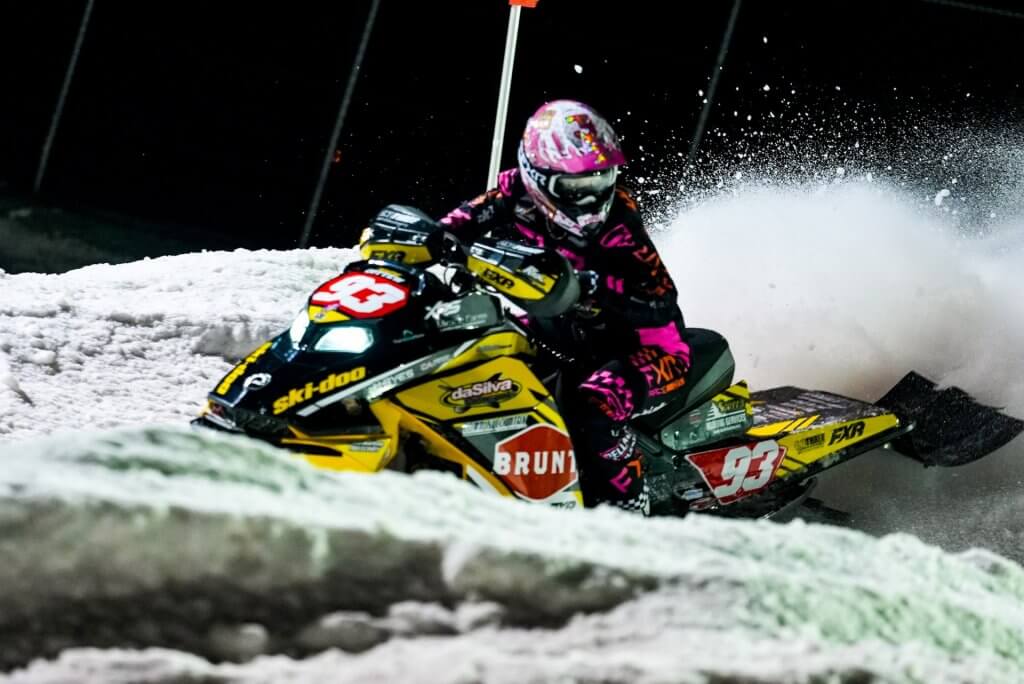 Cottew Overcomes Injury for Another Pro Women's Win
One of the biggest storylines coming into the weekend was the health of defending champion Malene Cottew, who suffered a fractured tailbone in a regional event a couple of weeks ago.
Despite the injury, Cottew was wicked quick at ERX as she fought through the pain and used a smooth big triple-double—double jump section early in the race to take the lead. It marked Cottew's fourth straight win in Pro AM Women.
Inanna Hauger was quick off the line, grabbing the Stud Boy Hole Shot for the early lead. She would drop into second and stayed there until Taven Woodie started picking up steam and overtook the runner-up spot and completed the final running order.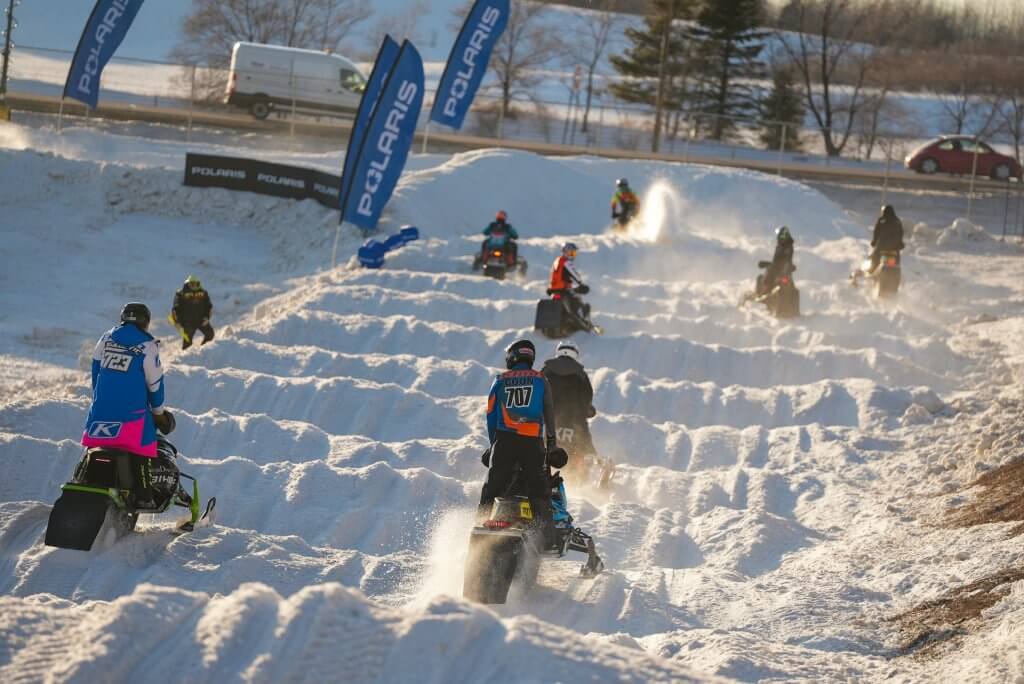 FXR SPORT: The big ERX track took its toll on the FXR Sport class on Friday, but when all of the dust settled it was once again Crayden Dillon sitting on top of the box.
Dillon started what seemed like a distant fifth in the final but found himself in podium position on lap three. He would take over the lead one lap later, and storm to his sixth win of the season.
Drew Freeland spent the entire race in line for a podium finish but bounced between second and third a couple of times before settling into the runner-up spot. Tyler Archambault returned to the podium for the fifth time this season, finishing third behind Freeland.
SPORT LITE: Brandon Nelson came into ERX with a 34-point lead in Sport Lite, but he was looking to get back on track after a tough second day of racing in Deadwood. Nelson was all business on Friday night, with his best ride of the day coming in the final.
Nelson went wire-to-wire for the win, a nine-second margin that brought home his fourth win of the season. Kenny Goike held off Caiden Flipsen on the last lap for the runner-up spot, his second-straight podium finish.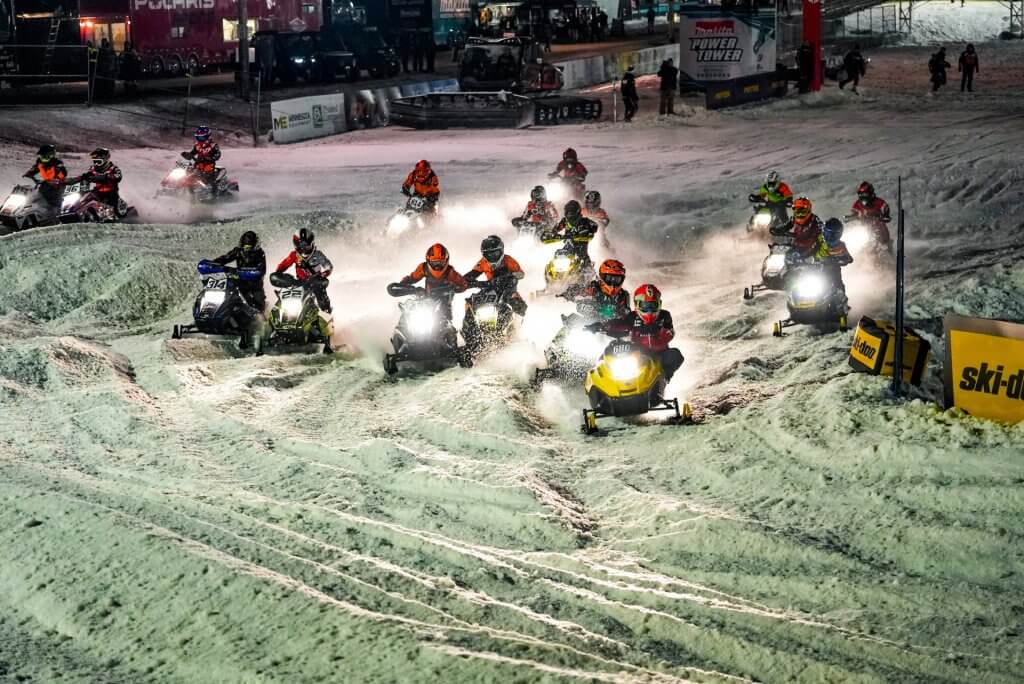 Rox Speed FX Stock 200 (Friday): There is a major movement in the youth classes of snocross, and it was evident in Friday night's Rox Speed FX Stock 200 final. Nineteen sleds lined up for the final, and it was a drag race around the big ERX track. 
When the checkered flag was waved, Jack Gelinas found himself atop the box for the first time this season. Trey Kohegyi crossed the line in second, and points leader Tayte Blasey was third.
Transition 9-13 (Friday): Jimmy Stanisich put a stop to Tavin Knudson's winning streak in the Transition 9-13 class by taking command with two laps remaining for his first win of the year. Knudson did work his way back into the runner-up spot with two laps to go and finished less than a second behind Stanisich. Riley Johnson had to hold off Carter Meyeraan at the line for third.
Transition 8-10 (Friday): Ryan Shimanski has won four straight Transition 8-10 finals to open up the 2023 season. Shimanski went wire-to-wire for the win. He was clear of the second place showdown between Tripp Knudson and Logan Bruch, with Knudson getting the runner-up spot by less than a second.
Jr. 14-15 (Friday): Caiden Pflipsen notched his first Friday Jr. 14-15 class win at ERX. Pflipsen led from start-to-finish for his third straight podium. Dylan Lebel held off points leader Isaac Peterson for the runner-up spot.
Up next for AMSOIL Championship Snocross: U.S. Air Force Snocross National in Elk River, Minn, on February 18, 2023.
You can watch all 16 rounds of the AMSOIL Championship Snocross season plus the AMSOIL Dominator live on FloRacing with a subscription. For more information on how you can follow along this season, click here.