Dubuque, Iowa ~ It will take almost every lap and two full days of racing at the Theisen's Snocross National to sort out all the 2022-2023 champions. But, with a high-speed track set up in the balmy spring of Iowa, all bets are off on who will walk away with the hardware.
Will Emil Harr make the final push to close the gap with Elias Ishoel? Can Jordan Lebel lock up Pro Lite and put his trade to work in the Pro class on Sunday? The racing will sort it out, and the adrenaline was flowing on Saturday with high-speed racing and unexpected risk takers owning the night.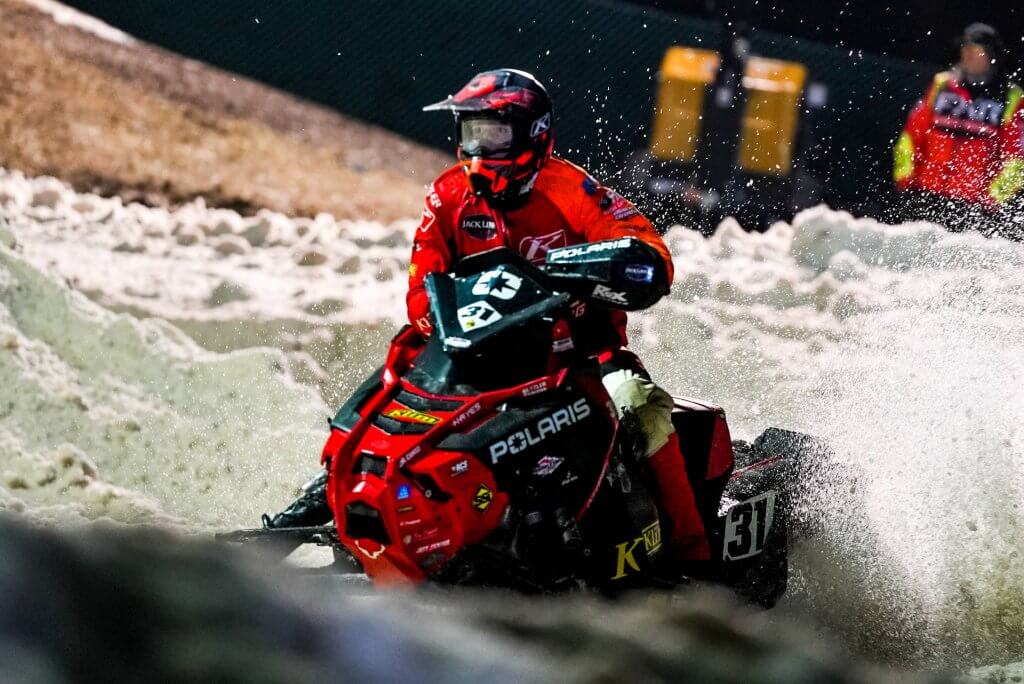 Harr Extends Triple Crown Streak, Ishoel Closes in on Fifth Title
Emil Harr has made things look too easy in the recently adapted Triple Crown format. After winning the first round of the Triple Crown at ERX, Harr went on a tear in Michigan, winning all six races and sweeping the weekend.
That put Harr within striking distance of Elias Ishoel for the Pro championship. There was only a 36-point difference coming into the weekend, mainly because Harr was the best rider on the planet in Michigan. He continued his wicked-fast pace, backing up his win streak by taking wins in the first two rounds to start the racing action in Iowa.
The starts propelled Harr to those wins, as the track was extremely fast and rewarded raw speed and a max-attack effort. After two rounds, Harr had knocked nine points off Ishoel's overall lead. But Ishoel, the four-time defending champion, answered back in the third round. He was vintage Ishoel as he timed the start to perfection and then rode with his head down, intensely focused on getting the win and setting himself up for a rewarding Sunday.
But the story on Saturday was Harr, his 1-1-2 finish brought home 42 total points, the highest scoring night by any pro rider. That gave him his third straight overall and his fourth in five rounds since the start of the Triple Crown.
"I tried to stay calm and had a good start," said Harr. "Elias got the hole shot, and I could stay behind him. He was riding well and was able to check out a little bit. It was good for me because I didn't have to deal with any roost. It was a gnarly track. I couldn't believe it when I came here yesterday, and there was no snow. But it's fun when the track is like this."
Ishoel's win in the third set pushed him close to the overall, but he had to settle for the runner-up spot. However, he did pick up three of the points he lost to Harr by winning the night's final race and keeps a 30-point lead heading into Sunday for the points race.
Kody Kamm turned in another solid day of racing. He finished second in the first heat, then fourth and fifth in the final two runs. That was good enough for third overall on Saturday, leaving him squarely in third in the championship standings.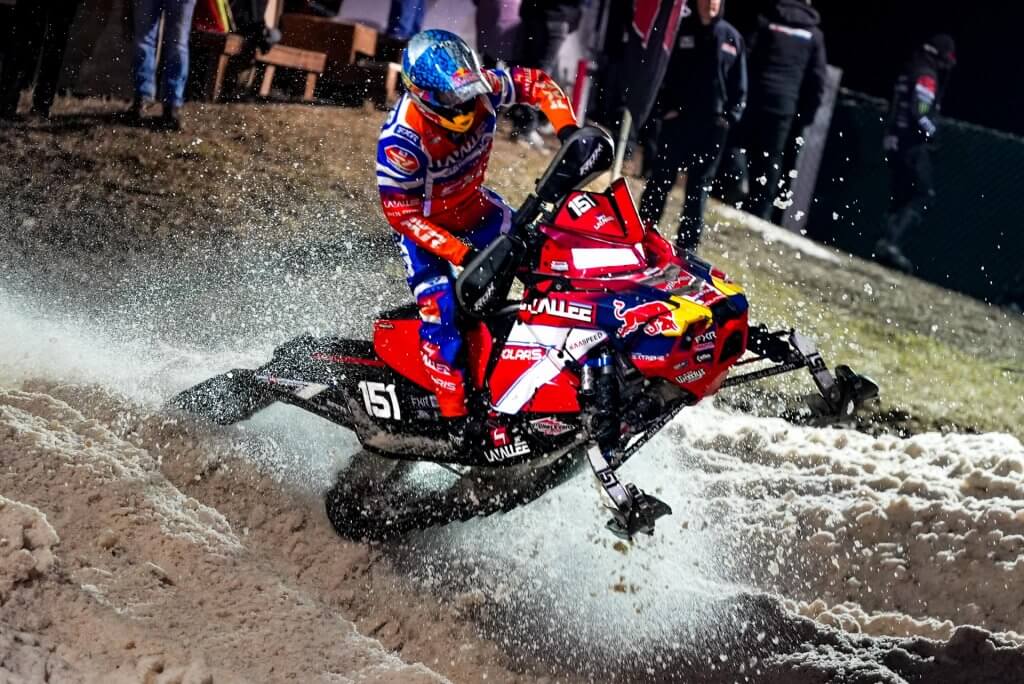 Bester Busts Through, Lebel Clinches Championship
It's a cliché, but it has been a fitting one for Ryley Bester this season: always a bridesmaid and never the bride. Only one rider has put together a better season in any class this year than Bester, and that is the man he is chasing in the Pro Lite standings: Jordan Lebel.
But it all came together for Bester in Iowa on Saturday. First, he won both heat races, making him the number one qualifier and giving him an optimal starting position in the final. He used it to his advantage and shot off the line with the lead. Then, with Lebel stuck back in seventh, Bester went to work, setting a blistering pace out front.
Lebel was pushing hard as he worked his way through the field. Finally, he got into the runner-up spot, passing Marcus Ogemar with about three minutes left. But Bester was eight seconds up, and the math wasn't working in Lebel's favor. Bester navigated the final few laps with precision, sneaking past lappers and hitting the clock perfectly not to allow an extra lap of action. It was a career-defining win for Bester and one he had worked all season to get.
"I had a good last day of practice this week," said Bester. "I just told my coach after practice, 'I'm just having fun out there,' and that's when I do my best. It was good to go out there, win my heats, and get on the top spot tonight."
Lebel's charge showcased how fast the track was and how quickly he can ride. He did cross the finish line in second but lost three spots for contact with another rider when making a mid-race pass. Despite losing positioning, Lebel still held enough points after Saturday night's final to clinch his second-straight championship. It will also mark the last race of his Pro Lite career, as Lebel will debut in the Pro class on Sunday.
Marcus Ogemar finished behind Lebel and will officially end the night as the second-place rider. Also moving up a spot to third was Crayden Dillon, who was making his professional debut in Pro Lite after he wrapped up the Sport championship earlier in the day.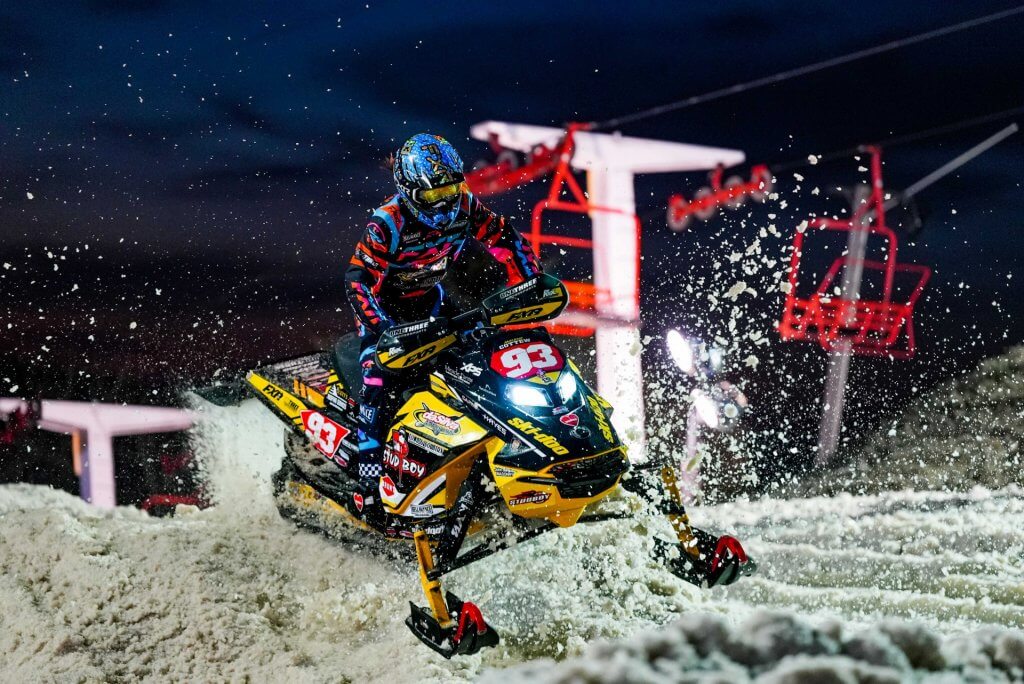 Cottew Wraps Up Pro Women's Title
Malene Cottew has been a force over the past few years, overcoming physical and mental barriers to push to the top of the Pro AM Women's class. She came into Iowa with a simple goal, take care of business on Saturday and wrap up her third straight class championship.
Cottew had a bit of work early in Saturday's final but found herself out front on the second lap. From there, she clicked off near-perfect laps for the next nine trips around the Sundown Mountain Resort racetrack. Ultimately, Cottew had her 13th win of the season and that third-straight title. In all, Cottew won 39 races, including heats, in 2023.
Tausha Lange continued her second-half surge, picking up her third straight podium finish by crossing the line in second on Saturday. Inanna Hauger worked her way from a fifth-place start to a final finishing spot of third.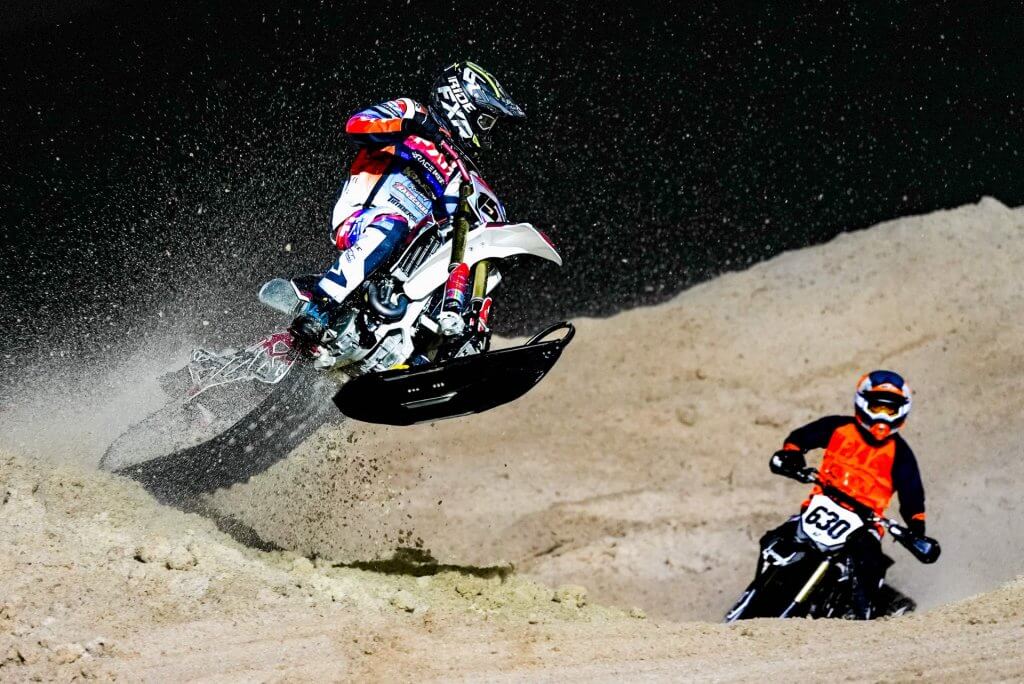 Horbaty Hailed the Victor in Snow Bike
RJ Marnoch made Troy Horbaty earn it in Iowa, but after two moto's of racing on Saturday, Horbaty walked away with the overall and the 2023 championship.
Horbaty led the first moto until the final two laps when Marnoch took over the lead and motor to the win. But Horbaty returned the favor in the second moto, taking the moto win and the overall on the day.
Marnoch's 1-2 was good enough for second overall and marked three podium finishes this year. Kolton Krajicek finished third overall.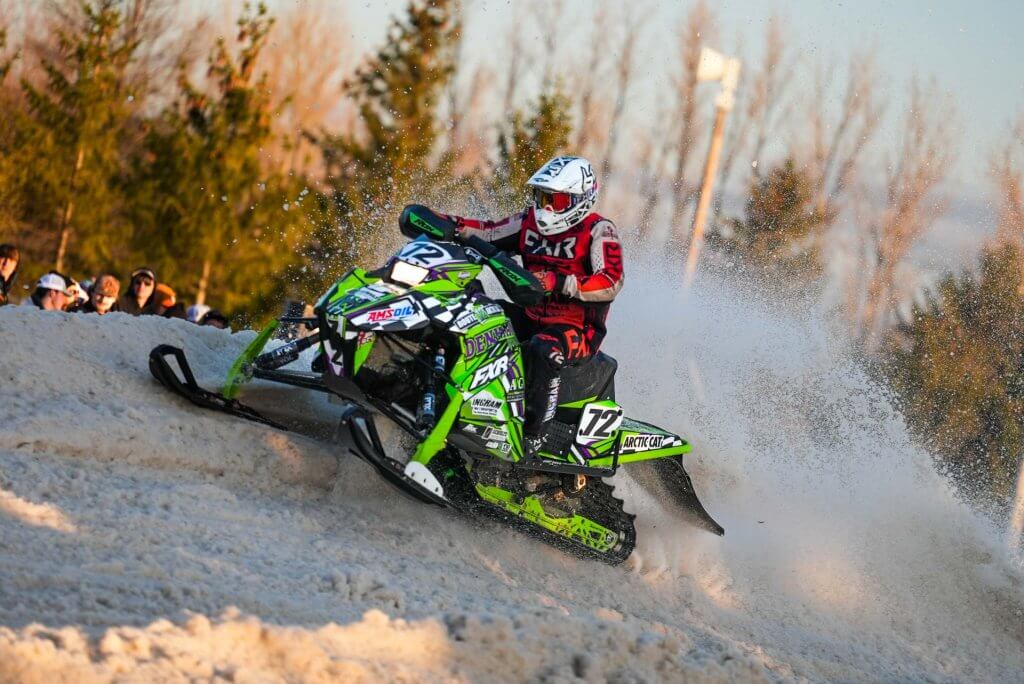 Denman Takes Win, Lieders Wraps Up Title
For most of the Pro AM Plus 30 final, it looked like Andy Lieders would wrap up his championship season with a final-round victory. But a last-lap crash would drop the points leader to sixth and put defending champion Devin Denman into the lead.
For Denman, who came into the weekend 21 points behind Lieders in the points standings, the win marked his first of the 2023 season. Unfortunately, it wasn't enough points to make up the gap for back-to-back titles, but it was a much-needed, hard-earned win for the Arctic Cat rider.
Early race leader Josh Zelinski was able to move back into the runner-up spot on the final lap, finishing second in his first race in nearly a decade. Ryan Frank finished third, his first podium since his winning ride in Deadwood.
FXR SPORT: Cameron Cole is wrapping up his 2023 FXR Sport season with some momentum. The round eleven winner took a podium in Michigan last weekend and has backed it up with the win in round 15.
Cole got the hole shot and never relinquished the lead on his way to his second win of the season. However, it got tight for the race leader late in the final. Drew Freeland's hard charge caught up to Cole on the last few laps. However, when the checkered flag dropped, Cole had a slim lead over Freeland, just 7/10ths of a second ahead at the line.
Tyler Archambault, who sits third overall in the points race behind Freeland, finished third with a last-lap pass. Points leader Crayden Dillon wrapped up the points championship after the first heat race and did not compete in Saturday's final.
SPORT LITE: Brandon Nelson entered Iowa intending to get back on top after a challenging round 12 in Michigan last Saturday. Nelson, who held a commanding lead in the Sport Lite class, secured the 2023 title with a dominant run on Saturday in Iowa.
Nelson took the lead on the second lap and ran the quickest lap of the race as he knocked off his eighth win of the season.
Behind Nelson, Brady Freeland and Kenny Goike are in a dogfight for the second-place spot in the standings. Freeland flipped a two-point deficit into a two-point lead over Goike after winning both heats and finishing second in the final. Goike wasn't far off the pace, finishing third.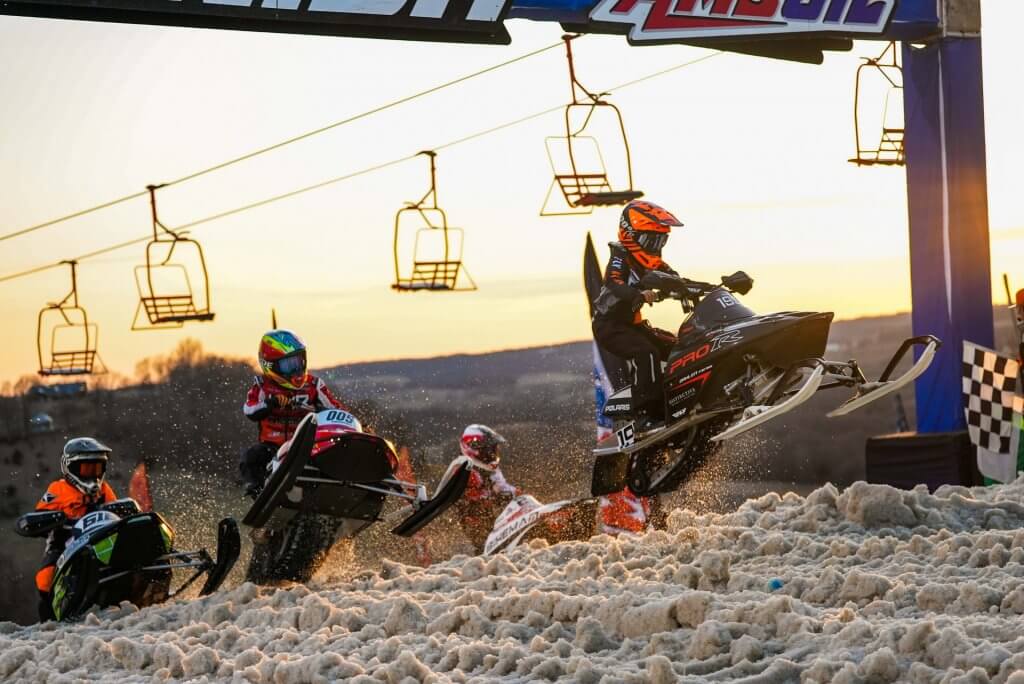 120 CHAMP: Ryan Shimanski answered the championship call by holding off all challengers in Saturday's 120 Champ final.
Shimanski got the hole shot, but Lila Hemmer railed around the outside to take the early lead. Shimanski, though, was flying as the young rider was determined to wrap up the class title with what would become his sixth win of the season.
Hemmer applied heavy pressure from start to finish but came up just short of the win in second, her third podium in a row. Kody Krantz finished third.
Rox Speed FX Stock 200 (Saturday): Jack Gelinas secured his Rox Speed FX Stock 200 (Saturday) class title in Iowa thanks to a fantastic race under the lights on Saturday.
Tayte Blasey finished the year on a high note, picking up his first podium finish in second. Logan Brault also had his best run of the season by finishing third.
Transition 9-13 (Saturday): The Transition 9-13 (Saturday) class has showcased tight racing and drag race finishes all season long. It was another great race in Iowa on Saturday, with AJ Skogquist taking his first win of the season to hold down second overall in the standings. Wyatt Skogquist finished second, ending the year third in points. Lincoln Meyer had his first podium finish of the season in third. Tavin Knudson was fifth but wrapped up the title with his three wins this year.
Transition 8-10 (Saturday): Tripp Knudson's fifth win was enough to lock down the Transition 8-10 (Saturday) championship. Knudson put together a grand final, as did second-place finisher Logan Bruch, who used three-straight podium finishes to end the year second overall. Beau Engel finished third on Saturday.
Jr. 14-15 (Saturday): Dylan Lebel closed out the 2023 season, and the championship, by winning his fifth straight Junior 14-15 final on Saturday. Kamden Duffy challenged him in the final, finishing second for his fourth consecutive trip to the podium. Isaac Peterson closed the season-long fight with Lebel by finishing third and second overall.
JR. 10-13: It was going to be a winner-take-all scenario in Iowa to crown the 2023 Junior 10-13 champion. AJ Skogquist took care of business, winning both heats and the final to edge out Carter Meyeraan for the title by 12 points.
Sebastian Horton finished second, his first podium of the year. Ryder Harnois picked up his second podium of the season with a third-place finish on Saturday.
Woodies Racing JR. Girls 9-13: Victoria Dillon and Avery Hemmer both scored 41 points on Saturday, but Dillon would take home the championship honors. Hemmer did everything she could to win the Woodies Racing Junior Girls 9-13 title, including winning the season finale on Saturday. Dillon was close by, crossing the line in second. Ana Wensloff rounded out the podium in third.
Up next for AMSOIL Championship Snocross: The season finale, Theisen's Snocross National in Dubuque, Iowa, on April 2, 2023.With a subscription, you can watch all 16 rounds of the AMSOIL Championship Snocross season and the AMSOIL Dominator live on FloRacing. For more information on how you can follow along this season, click here.