Shakopee, MN (March 11, 2019) – Mother Nature was a big factor at the penultimate event on Hentges Racing's 2018-2019 snocross calendar this past March 8-9. The ski slopes of Sundown Mountain in Dubuque, Iowa, played host to the event with race organizers building a monster track with big holes and the ever-formidable downhill mogul run. As if the track wasn't challenging enough, a storm front brought an all-day rain to Saturday's races, hampering visibility and making the track highly unpredictable not only from race to race, but from lap to lap.
Hot on the heels of the Pro points leader, Kody Kamm was looking to gain max points in Iowa headed into the final race weekend. Kamm was perfect in heat racing, winning every time he took the track, but a top finish in the finals eluded him. Kamm's best finish was 9th, but he still sits poised to challenge for the points championship.
"We had another good heat race weekend, winning all four of them," said Kamm. "But the finals were frustrating, we had bad luck both days. Our sleds were great, we just didn't get the breaks. Now we're focused on the push into the final weekend and looking for three good days of racing at Lake Geneva."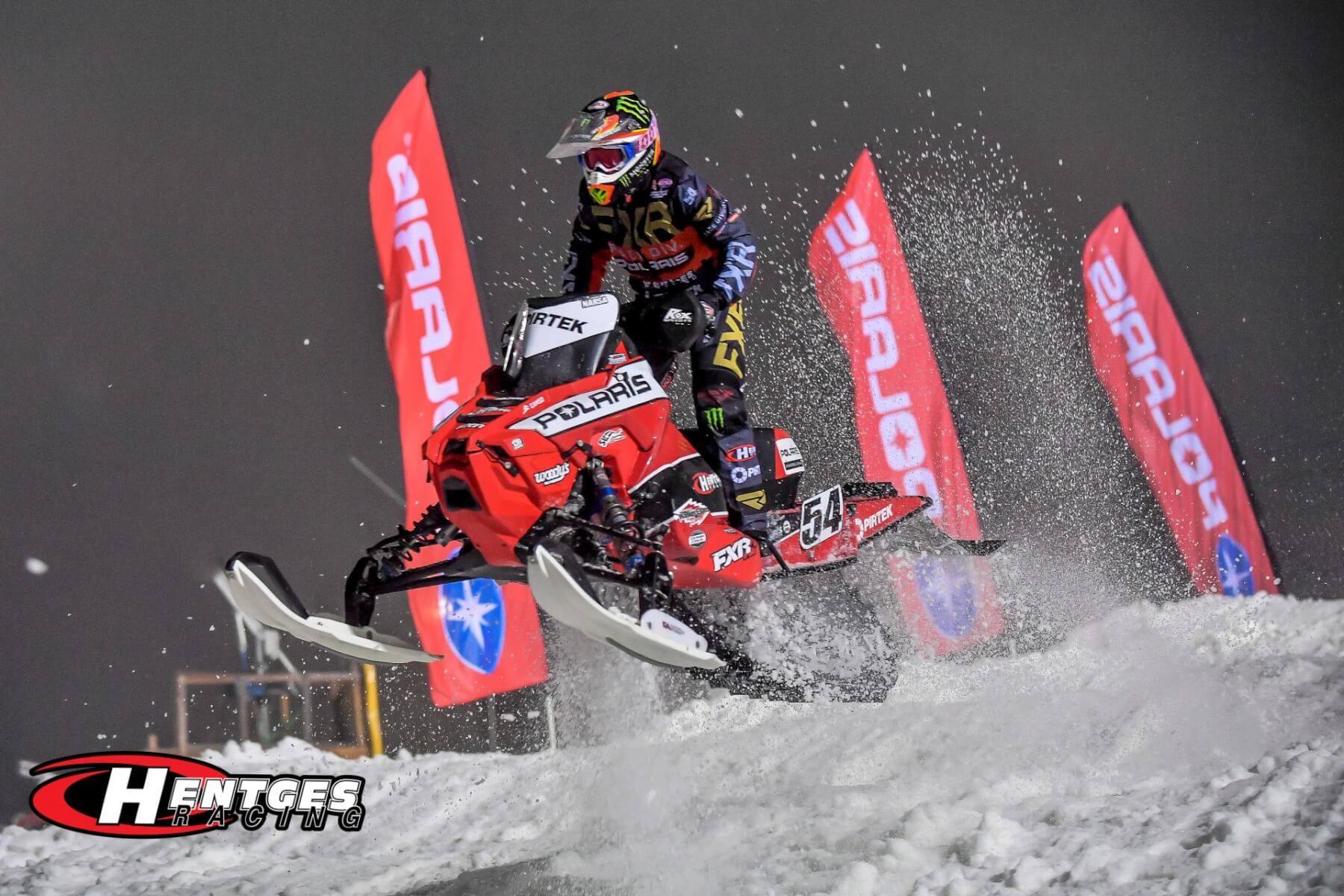 Photo by Crystal Wallem Photography
Petter Narsa sits 8th in Pro points but could easily climb into the Top 5 at the final event. Narsa used good qualifying to get a prime gate pick for Friday's final and finished just outside the Top 5. Like the rest of the field, he struggled with visibility in the rain on Saturday and got the last gate pick, slotting him well on the outside for the start.
"I got a decent start Friday but I made a little mistake on the first lap and lost a few spots, dropping me back to 6th place," Narsa said. "Saturday was really tough conditions. I got the last pick in the final which put me way on the outside. That didn't add up to a good start, but I worked my way up through the pack to 7th place. The team worked hard to put us on a good sled, and we're looking forward to posting some good results in Lake Geneva."
Next up for Hentges Racing is the RAM Trucks Snocross Grand Finale March 15-17 in Lake Geneva, Wisconsin. For more information on Hentges Racing visit www.hentgesracing.com. Follow Hentges Racing on Facebook, Twitter, Instagram and YouTube.
Team Partners: Polaris,Pirtek, FXR, Monster Energy,Polaris Engineered Lubricants, Woody's Traction Control, Walker Evans Shocks, Apple Ford Shakopee, Forterra Pipe & Precast, S.M. Hentges & Sons, Ergodyne, C&A Pro Skis, 139 Designs, Camso, NGK Spark Plugs, EVS,SLP