The 2022-2023 AMSOIL Championship Snocross title chase comes to it's finale at the slopes of Sundown Mountain Resort April 1st and 2nd in Dubuque, IA. ACS makes it's highly anticipated return to the venue for the first time since the 2018-2019 season. The first-ever Snocross national at the venue was held during the 2016-2017 season. It was at that very race that the Dubuque area became a staple to the circuit thanks to the popularity among local race fans. The state of Iowa is a hotspot for dirt oval and pavement racing.
The two-day snowmobile racing spectacular will be held throughout the day Saturday and in the morning and afternoon of Sunday. Sundown Mountain Resort offers ample indoor and outdoor space for vending and viewing. The course offers big elevation changes and tricky rhythms atop the ski slopes. Please stay tuned for the official track map.
For those fortunate enough to attend the event, we hope you enjoy the races and create lifelong memories. Tickets and event info can be found here. For those who are not able to make it, please see below for information on how you can follow along online.
AMSOIL PRO
1st: Elias Ishoel #200 (499 points)
2nd: Emil Harr #31 (463 points)
3rd: Kody Kamm #53 (453 points)
4th: Hunter Patenaude #8 (427 points)
5th: Francis Pelletier #220 (406 points)
Championship Scenario: Elias Ishoel clinches after the Race #3 on Saturday if throughout the triple crown he scores a total of 9 more points than Emill Harr, within 1 point of Kody Kamm, and within 27 points of Hunter Patenaude.
Your top-2 in points have been on rails in this 2nd half of the season. With Ishoel back to full beast mode and Harr so dominant in Triple Crown racing, this has been a thrilling matchup to witness.
Harr's Triple Crown recipe includes stamina and his ability to move forward. He downright checks the boxes of what it means to be the best current Triple Crown performer. But just how good is Mooses?
Triple Crown Race Wins:
| | |
| --- | --- |
| Harr | 8 |
| Ishoel | 2 |
| Pihlaja | 1 |
| Pelletier | 1 |
Triple Crown Overall Wins:
Winners in Dubuque include Kamm (1), Ishoel (3), Pihlaja (1) and Pelletier (2). Kamm is the only one to have won at Sundown Mountain Resort. The rest claimed their respective victories at the Dubuque County Fairgrounds. Ishoel and Pelletier are the only two who have swept both Finals in one weekend in Dubuque.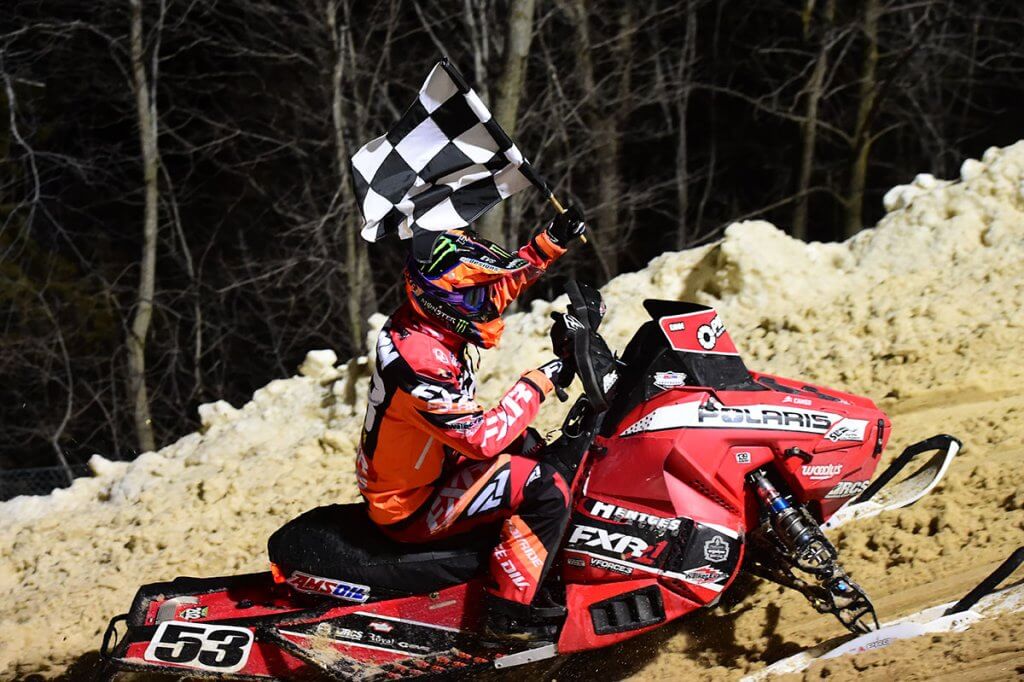 The last couple weekends of trying to race through a broken rib and lung injury have been miserable. My body simply got set back a lot further than I cared to admit to myself or anyone else. Definitely bummed because before this injury, results were starting to go in the right direction and now it's a struggle to even race a full day. It sucks to try and race knowing I'm nowhere close to 100% but I am glad I have been out there. So, the team and I have decided that I will only being racing on Sunday this weekend. Sucks to end the season this way but at least I get to end it on a sled. Going to go out and have some fun.

Travis Kern's Instagram: @traviskern201
PRO LITE
1st: Jordan Lebel #511 (578 points)
2nd: Ryley Bester #151 (511 points)
3rd: Marcus Ogemar #58 (470 points)
4th: Evan Daudt #413 (435 points)
5th: Anson Scheele #44 (429 points)
Championship Scenario: Jordan Lebel clinches before the Saturday final by scoring 3 more points in Heats than Ryley Bester does. He can also clinch by just starting the Saturday final if his Heat total is within 3 points of Bester's (example: Bester scores 19 and Lebel scores 16).
Lebel has dominated all but two of the 14 rounds. (Evan Daudt and Andy Pake). Pake was our most recent Pro Lite winner at the Cannonsburg Snocross National. It was his second career win and his first on a Ski-Doo.
The 'Lites class has three racers that have won in Dubuque. Lebel (2), Bester (1), and Pake (1). Bester is the only one to have won on the slopes of Sundown Mountain. The others earned theirs at the Dubuque County Fairgrounds. Bester is 2nd in the points and has been on the podium 8 of 14 Rounds this season, all of which have been 2nd place finishes. Could this be his weekend to tally that first win(s) of the season?
PRO WOMEN
1st: Malene Cottew #93 (604 points)
2nd: Taven Woodie #873 (552 points)
3rd: Inanna Hauger #331 (516 points)
4th: Tausha Lange #214 (509 points)
5th: Naeli Lebel #518 (448 points)
Championship Scenario: Malene Cottew clinches Saturday night unless Taven Woodie scores a total of 8 more points than her throughout the Heats and Final.
Tough Taven Woodie suffered a knee injury in Round 13. A crash that would have sidelined just about anyone, Woodie decided to line up the next day and try to race. The latest update via her Instagram:
Well update on the knee situation… we didn't get the news we wanted….MRI found a lot more damage then we thought. Surgery is scheduled for April 11th! Not a whole lot worse that you can get so we are still planning on lining up for the last @snocross race of the year! We are still going to try and push to hold second place in points! See you all there!

Taven Woodie's Instagram: @twoodie873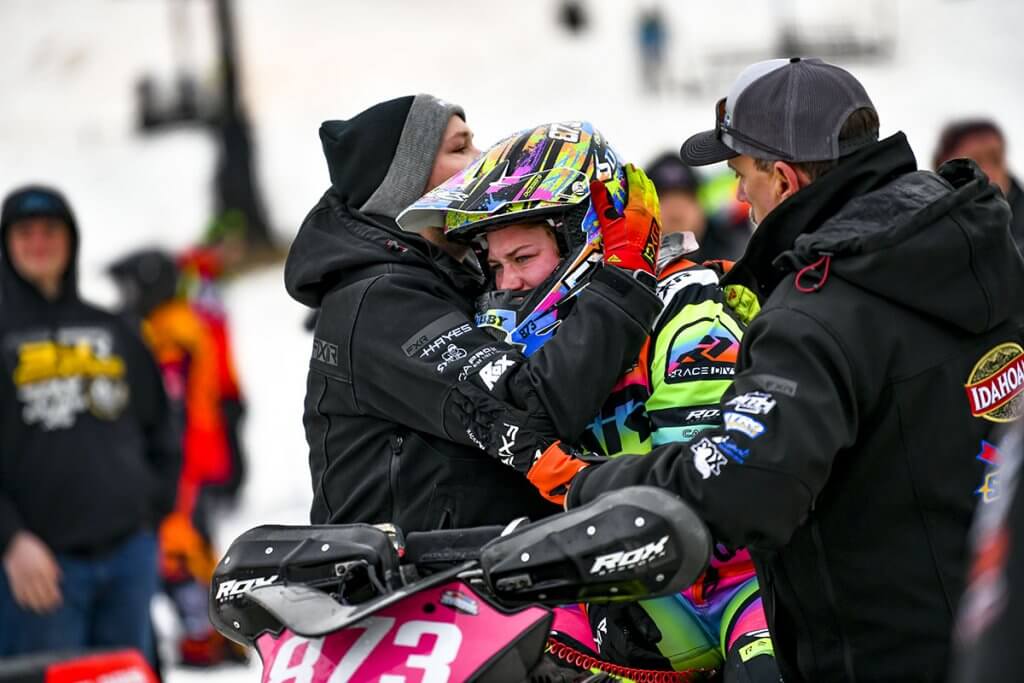 SNOW BIKE
The final round of the Snow Bike Triple Crown will be held on Saturday. Here are your points leaders: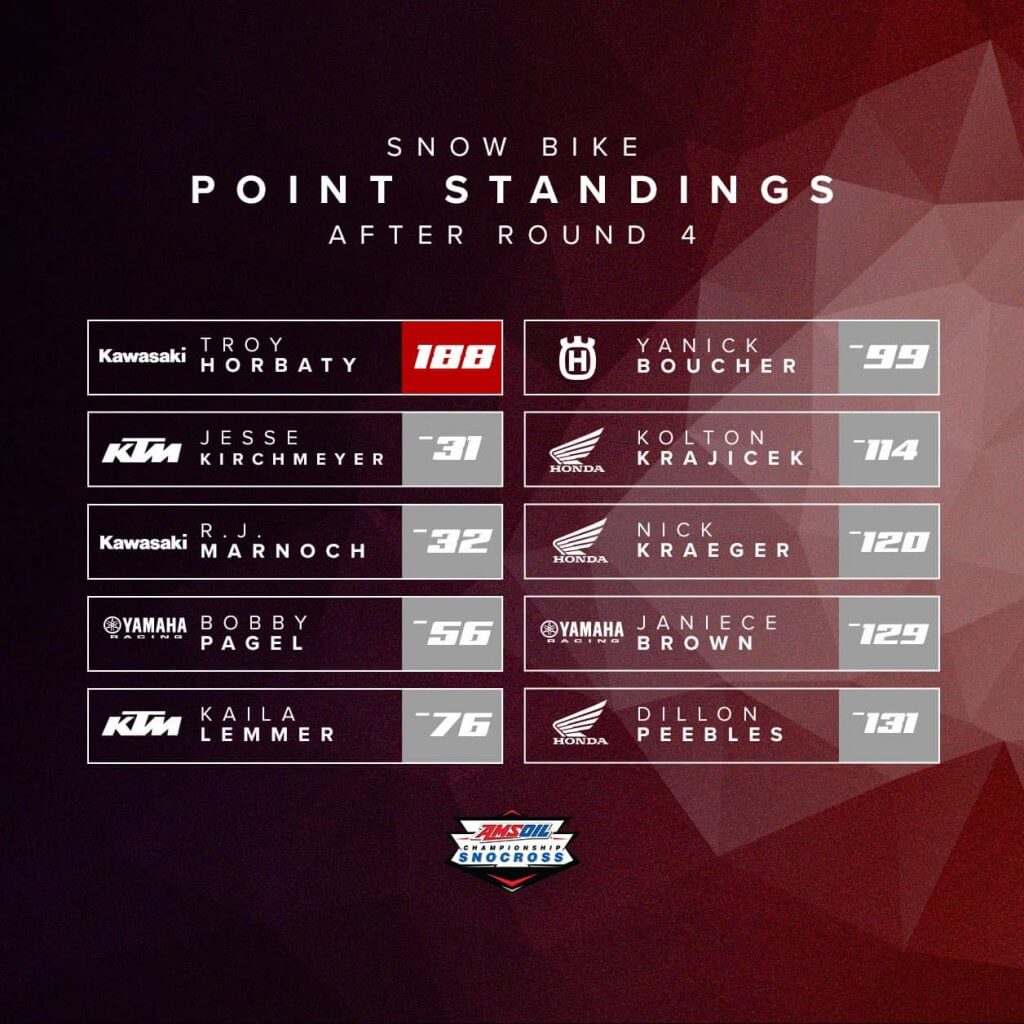 Slated to line up in Dubuque:
| | |
| --- | --- |
| Lemmer | Kaila |
| Kirchmeyer | Jesse |
| Horbaty | Troy |
| Brown | Janiece |
| Pagel | Bobby |
| Krajicek | Kolton |
| Marnoch | R.J |
| Mc Kelvey | Brendan |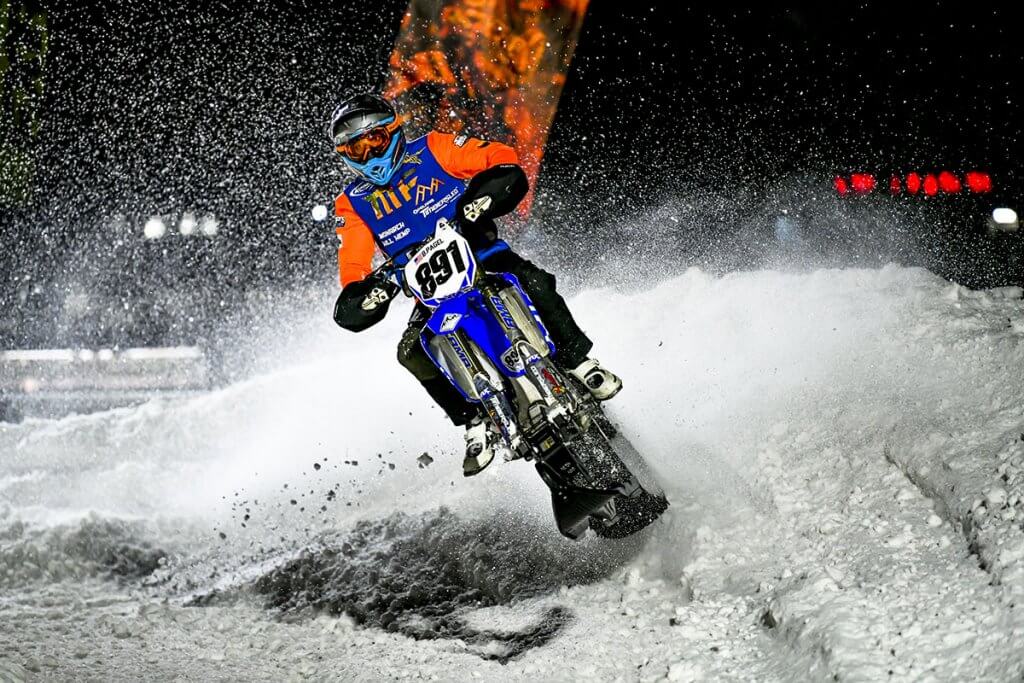 Championship Scenario: Troy Horbaty can clinch by finishing in the top-3 in Moto 1.
---
You can tune in live all weekend live on FloRacing. For a schedule of events, tickets and event information on the Theisen's Snocross National, click here.