Dubuque, Iowa. ~ It was a statement Sunday for the best snocross racers in the world as the sun set on the 2022-2023 AMSOIL Championship Snocross season.
Iowa helped usher out the 16-round championship with the warmth of 60-degree spring weather. The Hawkeye state also offered a beautiful backdrop to put the crown on the final few champions left in limbo after a roost-filled Saturday.
When the final checkered flag fell upon the Theisen's Snocross National, it saw a five-peat in Pro, a first-timer in Pro Lite, and a whole lot of hectic happenings.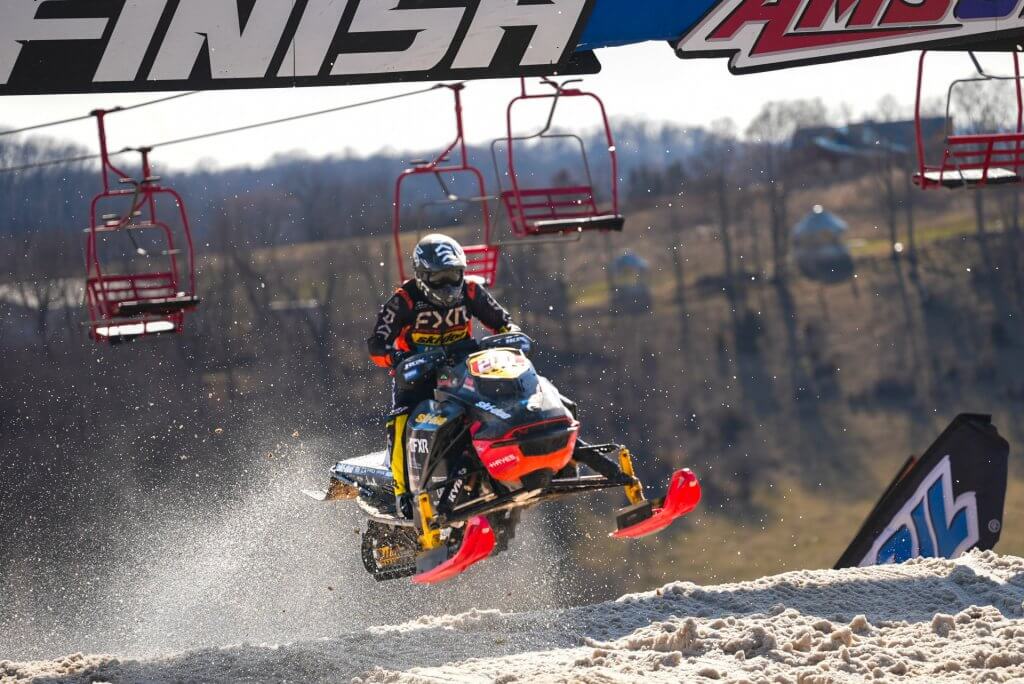 It's Ishoel's Impressive Day that Cements Title Number Five
As s champion, you want to win every race. However, first and last impressions are equally important in winning a season-long title. Coming into the year, Elias Ishoel was still working back from an offseason injury, but he opened up the campaign with a pair of podiums, including a second-round win.
He kept finding ways to win or secure a top finish and gathered up points in bunches throughout the season. Finally, on Sunday in Iowa, Ishoel didn't need to win any of the three rounds in the Triple crown. But he wrapped up the year with a lasting impression, taking a pair of wins and the overall.
The track was still fast on Sunday, with the sun beating down and a weekend's worth of wear and tear. Nevertheless, Ishoel wanted a clean start, and he got that in those two race wins, hitting the hole shot and fending off early competition for the wins. It would have been difficult for him to lose his fifth straight championship on Sunday, but he put it into no-doubt status early on, going 1-1-2 for the overall.
"It means everything," said Ishoel. "I've been working for this since last year. Of course, the preseason wasn't the best, but I started the season awesome, way better than expected. I was just trying to stay smart the whole season, don't do anything stupid, and that worked out."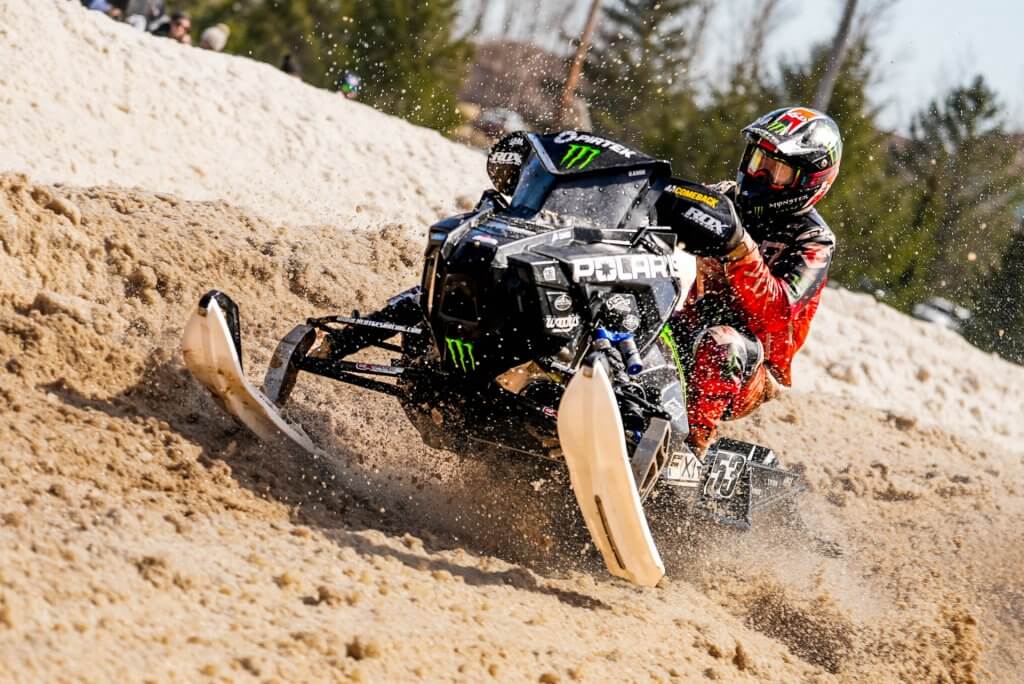 Kody Kamm and Emil Harr went bar-to-bar all weekend for the runner-up spot. Kamm was determined to end his season with the overall win, something Harr had done for three straight rounds. While he would come up three points shy, Kamm was flying on Sunday, finishing second behind Ishoel in the first two rounds before breaking through and winning the finale for second overall.
Harr has been so automatic over the past two weekends that his first-round mistake that took him off the track was a shock. But he still charged toward the front in every race, finishing 4-3-3 for third overall. Jordan Lebel, who clinched the Pro Lite title on Saturday, made his Pro debut on Sunday. He went 3-7-4 for fourth overall and could have finished even higher if he didn't tip the sled in the second round. Overall, it was an excellent debut for the new rookie.
First Timer Freeland Wins Pro Lite
It was a crazy Pro Lite final. Maybe it was a mix of it being the last race of the season and the focus was elsewhere, or the track was busy biting at the heels of snocross' finest. But, no matter what was happening, Drew Freeland enjoyed his ride on Sunday.
Freeland and 2023 Sport champion Crayden Dillon made their Pro Lite debut in Iowa. Dillon found success first, finishing third on Saturday. Then, on Sunday, Freeland topped his Sport-class counterpart by winning the final Pro Lite race of the season.
For much of the race, it was a Polaris Showdown between Friday night winner Ryley Bester and Pro AM Plus 30 champion Andy Lieders. They were side-by-side off the start, but Lieders grabbed the lead and kept Bester in his roost. Behind them was a battle of rookies for third between Freeland and Dillon.
Here's where the crazy part comes in. With three laps left, Bester found himself out of position and gave Dillon the runner-up spot. But a half-lap later, Dillon's sled suddenly stopped, moving Freeland into second. Then a half-lap after that, and with two laps to go, Lieders found the high side of a berm and tipped his sled on its side. That put Freeland in the lead and set up his first career Pro Lite win.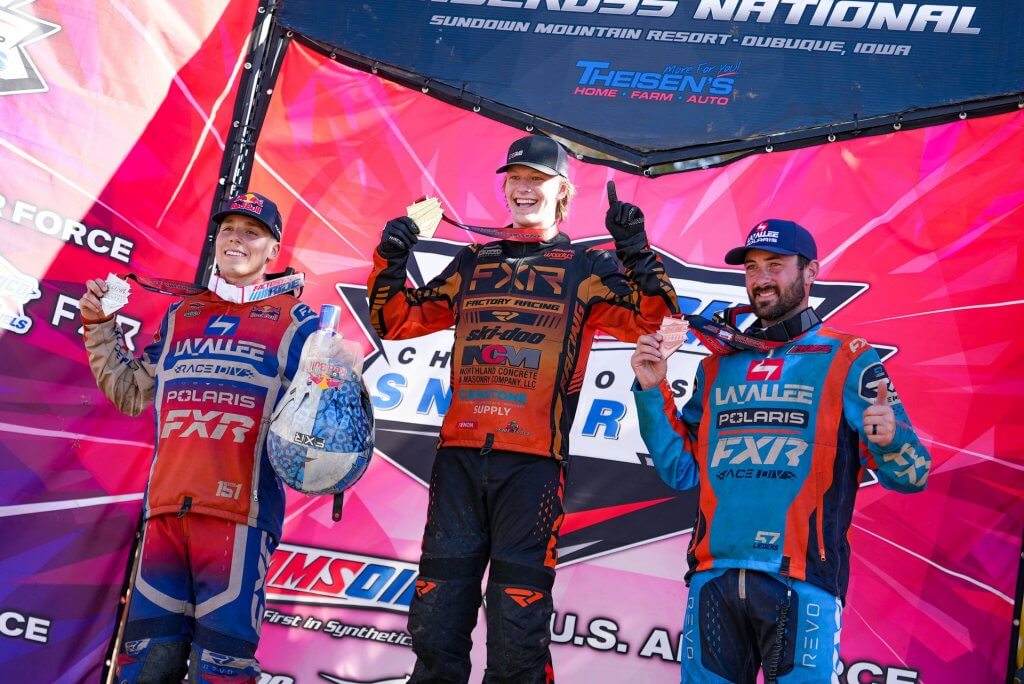 "I'm going to be honest with you when I looked at the scorecard for the qualifying, I was third pick, and I was super excited for that," said Freeland. I told myself, 'Just get a good start, ride with the big boys up here, and just learn for next year and maybe get a top five.' I stayed up there and was in fourth place for a long time, and I was just kind of riding my lines. The track is super gnarly; it's so easy to make a mistake, and that happened to the first three ahead of me, and then it gave me the lead. Once I was out front, I was just managing and slowing down and making sure I could bring it home."
Bester also benefited from Lieder's roll. He regained momentum and returned to the runner-up spot but could not mount a charge in time to catch Freeland. For the season, Bester had ten podiums, nine of them were second-place finishes.
Lieders, who runs in Pro AM Plus full-time, was able to hop back on the sled and lock down the final podium position.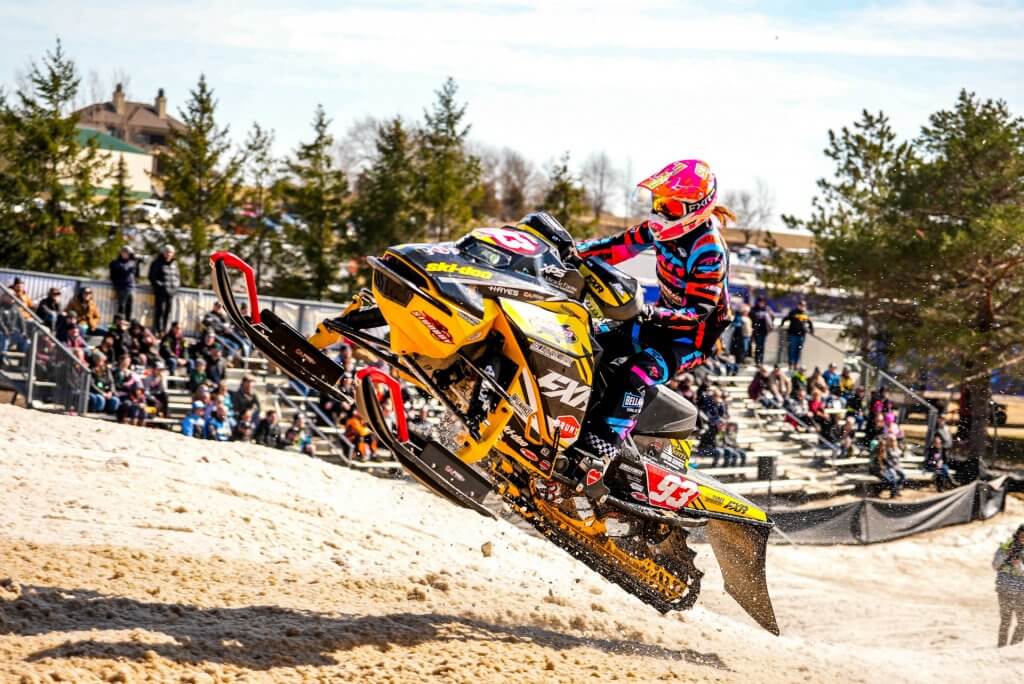 Cottew Completes Weekend Sweep
Before the Pro Lite final, it was another crazy final in Pro AM Women. The season-long script has shown the following: Inanna Hauger grabbed the hole shot, and Malene Cottew took the lead on the second lap and stretched her lead to another win.
Cottew held up her role in the showcase, but it was a close finish thanks to a crazy last few laps. Hauger was racing strong in second until the final lap but crashed on the slushy downhill turn, moving Tasha Lange into second. Unfortunately, that only lasted a few moments because Lange also tipped her sled, similar to Lieders off in Pro Lite. As they struggled to get their sleds upright, Cottew came around for the final time but came to a near stop to ensure her fellow competitors were okay.
She quickly saw the new second-place rider coming into view, hit the throttle, and powered up the hill. Cottew clinched her third-straight championship on Saturday, and her win on Sunday was her 14th of the season.
With Hauger and Lange out of commission, that opened the door up for two new riders to bring home their best finishes of the season. Cerissa Blessum would cross the line in second, her first podium of the year. Naeli Lebel has been knocking on the podium door all season and sealed the deal in Iowa, finishing third.
FXR SPORT: Dominic Hegman's best finish of the season in FXR Sport was a second at Canterbury in round four. He topped it in grand style on Sunday with a convincing win, his first career class win.
Hegman and Tyler Archambault were bar-to-bar on the first lap, and Archambault did everything he could to keep Hegman within reach. But Hegman's Sunday ride was too good, leaving Archambault in second. Saturday's winner Cameron Cole found his way into third and wrapped up the season with three straight podiums.
SPORT LITE: Brady Freeland and Dylan Lebel went back and forth early in the Sport Lite final, and then Kenny Goike joined the party late. Freeland held off Lebel on the opening laps, and the Goike moved into the runner-up spot a few laps later. They would end the race in that order, with Freeland nabbing his third win of the year.
Lebel held the position for the final podium spot until Caiden Pflipsen used a last-lap pass to take third place away from him.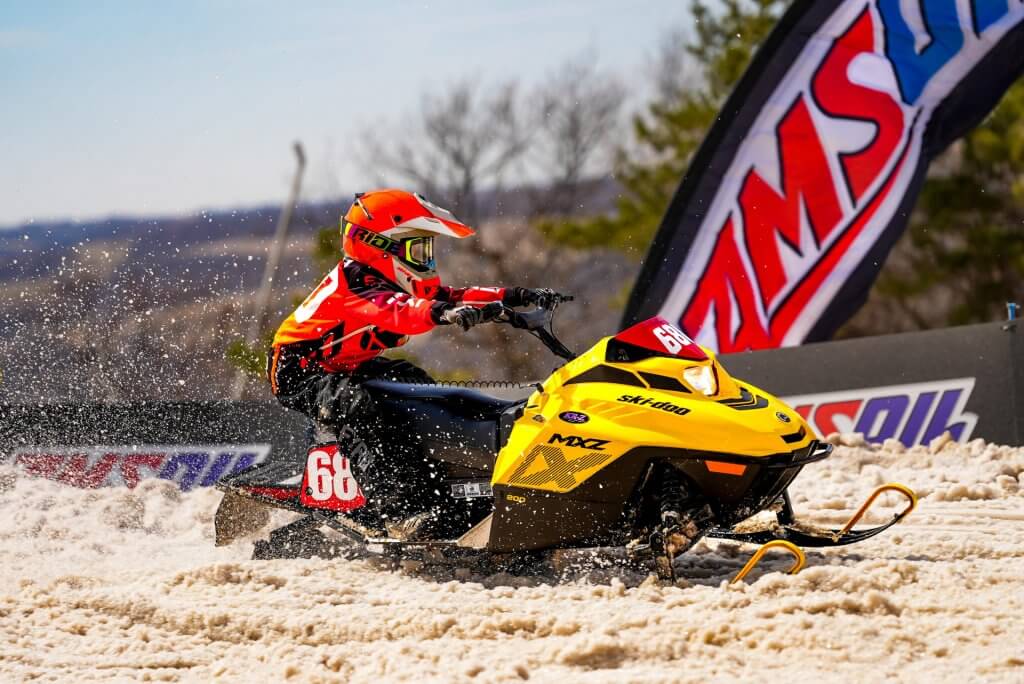 Note: Sunday's races for the following classes, went towards their respected Friday class.
Rox Speed FX Stock 200 (Friday): Jack Gelinas ran perfectly on Sunday, winning both heat races and the Rox Speed FX Stock 200 final. It was his second class win of the season, giving him enough points to secure the Stock 200 (Friday) class championship. Lincoln Skar finished a close second, with Tayte Blasey crossing the line in third.
Transition 9-13 (Friday): AJ Skogquist needed a perfect weekend and a bit of bad luck from points leader Tavin Knudson for a chance to win the Transition 9-13 (Friday) championship. Skogquist was perfect, winning both heats and the final, but Knudson was fourth in the final, securing the title.
Jimmy Stanisich locked down the runner-up spot, and Wyatt Skogquist was third.
Transition 8-10 (Friday): Ryan Shimanski went hole-shot to checkers for the Transition 8-10 (Friday) win on Sunday. It also was more than enough to lock down the 2023 championship. Logan Bruch made a late sash to catch Shimanski but had to settle for second. Tripp Knudson rounded out the podium in third.
Jr. 14-15 (Friday): Caiden Pflipsen rode a fantastic final in Junior 14-15 for his third win of the season. But the last two podium spots came down to the wire, as did the class championship. Peterson locked down the number two finishing position on Sunday, with Dylan Lebel in third. Those two have been swapping spots atop the standings for the last few weeks. Lebel won both of his heats and gained three points over Peterson. But Peterson's runner-up finish awarded him two more points than Lebel, which was the absolute difference in the standings.
With a subscription, you can rewatch all 16 rounds of the AMSOIL Championship Snocross season, plus the AMSOIL Dominator on FloRacing. For more information, including points for every ACS class, click here.